RV News
Exclusive: Ga. Couple Take Rallies into Their Own Hands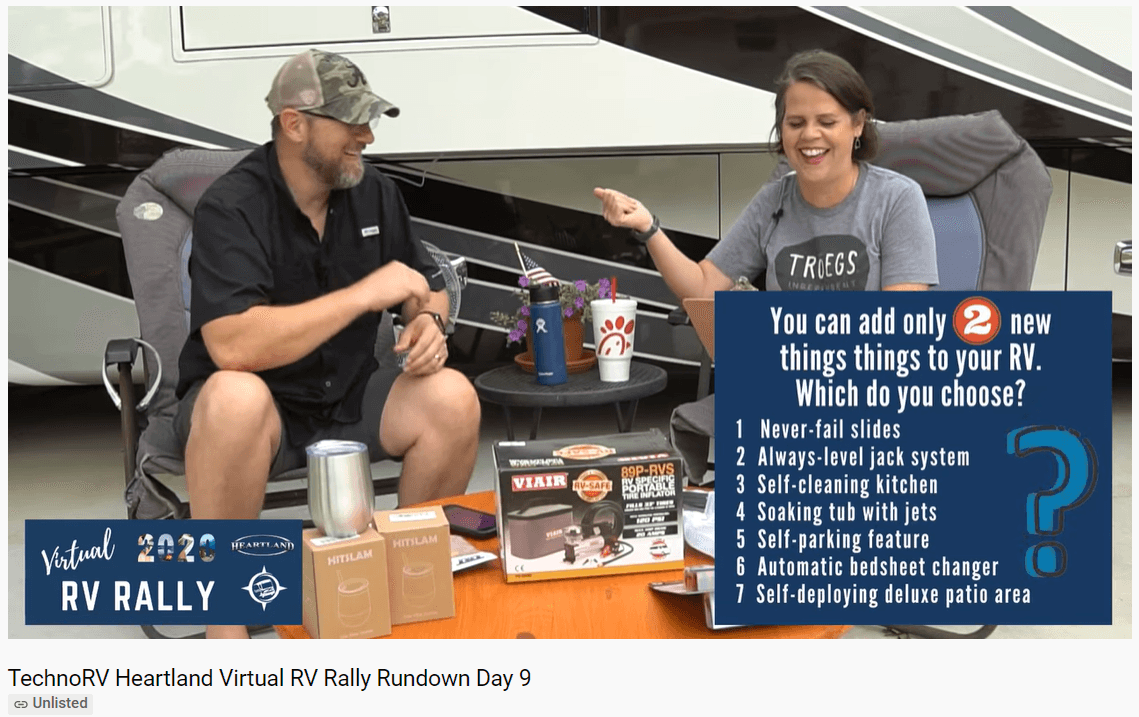 Every night of the rally, the couple would do a wrap-up and draw contest winners' names.
Full-time RVers, one of the big things that Eric and Tami Johnson, co-owners of TechnoRV in Semmes, Ala., have missed the most in this difficult year are the rallies.
They enjoy meeting other RVers, talking about their business – they sell RV tech-related products directly to consumers – seeing what new products are out there and just generally engaging with others into the lifestyle.
Given that campgrounds have only begun to open up anywhere in recent weeks, there hasn't been much of that this year, the couple says. And there certainly haven't been any rallies.
"When they started getting canceled, we had a conversation and said, 'Hey, there's a lot of this we can do virtually,'" Eric Johnson said recently from their home base in Semmes, where their RV is parked right out back of their shop. "When you go to a rally you expect to have giveaways, you expect to have seminars, you expect to have product demonstrations. We're like, we can do all that online."
Thus was born the TechnoRV Heartland Virtual RV Rally, which took place May 6 to 16. It was, Eric says, a smashing success.
He said once the word got out – through the couple's contacts and their social media channels – people were calling the Johnsons to participate.
"When you entered into the rally you could (virtually) enter into different spaces," Johnson said. "When you went into what we called the vendor hall, that was all product demos – just like if you're at a real rally. They'll have a vendor hall that you can go in and each vendor will demonstrate and talk to you about different products, things like that. The seminar hall of the virtual rally was nothing but seminars about topics – electric safety, tire safety, that kind of thing.
"And then there was a giveaway section, there was a stay connected section, a way for them to communicate with each other during the rally. And we had contests that we would do, like, 'Here's a picture of a national park, which one do you think it is?' Just the things you would do at a normal rally."
All of the product demos, any how-tos, etc. were pre-recorded and sent to the Johnsons ahead of time. So, once the event "opened" – it was free to get in – attendees were free to visit whatever hall they wished and binge-watch to their heart's content or check back in every so often.
Of course, the vendors took great pride in showing off their products, just like they would at a normal trade show. Attendees could get the scoop on SmartPlug's latest power connectors, or the GoStik Suction Mount Oscillating Fan, or the Camp Pro 2 WiFi Booster.
And the Johnsons say they were discreet about the companies they chose to let in. It was their show, after all.
"As full-time RVers, we use a particular brand of a lot of different products, and that usually means that we've tested a lot of other brands. We picked the one that we think is the best," Eric Johnson said. "So, when we did the virtual rally we thought well, we've gotta kind of stick with that."
The survey they sent out after the fact confirmed their suspicions: the event was extremely popular with both the vendor participants and those who came to shop or learn. The biggest lesson the couple learned, they said, was 10 days was too much. Five would be "the sweet spot," they said.
Eric Johnson said he's willing to speak to anyone who likes the idea of putting on their own TechnoRV Heartland Virtual Rally. Reach him through the company's website, he said, or at 866-324-7915.