RV News
Exclusive: Virtually Delivering the Dealership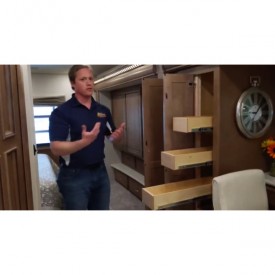 If your customers can't – or don't want to – come and visit your showroom, then use the internet to bring the showroom to your customers. That's what Wilkins RV in New York did recently.
While the four Wilkins stores, in Bath, Churchville, Syracuse and Victor, N.Y., were able to keep their parts and service departments open during this pandemic – they were deemed essential – the dealership was allowed to host sales calls by appointment only.
So, as the warm weather and RV season approached, what could the company do to make up for what would normally be brisk foot traffic walking through the stores? Lisa Rockwell, Wilkins' marketing manager, was discussing that with Patricia Hains, a representative from InteractRV, the dealerships' website provider, and the two came up with a plan.
Wilkins recently hosted a three-day Virtual RV Show, using Facebook Live.
"She and I kind of brainstormed it together and then I went to the owner with it and they liked it and said, 'Let's go,'" Rockwell said.
Three of the company's four dealerships participated. They advertised the three-day event both through internal email pushes, on their Facebook page and on local radio stations.
"One day we dedicated it to travel trailers, the second day was fifth wheels, and the next day was mobilehomes," Rockwell said. "We separated (the audience) based on what you were interested in."
During the 45-minute live presentation a sales representative walked the viewers through three models. An employee trailed nearby and monitored the viewing on Facebook, and if someone asked a question on Facebook that was immediately relayed to the salesperson and answered on the spot. Rockwell said they also had a parts and service representative and someone from the finance department give brief presentations about doing business with Wilkins during these days of social distancing.
"Each day went really well, all three days," Rockwell said.
Another spin-off idea that Rockwell and Hains had, inspired by COVID-19, was to invite customers and potential customers to request their own, personalized video tour. Through a button on the company's website, anyone can request a virtual tour of any model that they see – yet another way of reaching people where they live.
Rockwell said she has more Facebook Live presentations in mind, though the three-day event probably won't be repeated. Instead, she's planning on one per week, and now that more people are going back to work in New York state, the broadcasts won't be in the afternoon like the three-day Virtual RV Show was.
"Upcoming we'll do evenings," Rockwell said. "We've even started asking people, 'What do you want to see us do?'"