News
Exploring the EarthCruiser Dual Cab EXP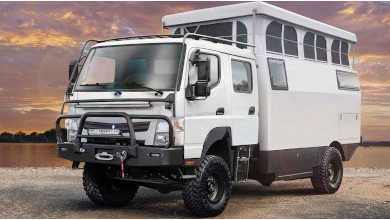 This beast is surprisingly plush inside, the author reports.
Editor's Note: Silvian Secara, writing for AutomotiveEvolution.com, had the privilege of exploring the great outdoors behind the wheel of the EarthCruiser Dual Cab EXP – an RV for those seeking luxury with their off-road craziness.
"As a result of travel restrictions, we slowly began rediscovering the joys of old-fashioned camping trips. Personally, I'm rather fond of this new trend!
There is no shortage of impressive motorhomes of all shapes and sizes on the market, ranging from opulent RVs packed with just about all the features of a five-star hotel's presidential suite, to the more affordable, yet practical trailers and camping units.
Now, try picturing a motorhome that is fully capable of following you off-road and over some of the most challenging terrain, besides being equipped with a plethora of luxurious features that will leave you wanting for nothing. To top it all off, it will happily go as far as offering you the most comfortable off-grid living experience you could possibly get. Pretty cool, right?
EarthCruiser's Dual Cab EXP brings all of the above into one package, and I'll have to admit, it's one surprisingly neat piece of thoughtful engineering, injected with a very healthy dose of meticulous design!"
Click here to read the full story.