RV News
Field Notes Day 1: Live From Open House
Dealers check out new models and the Suppliers Show as the week-long event kicks off.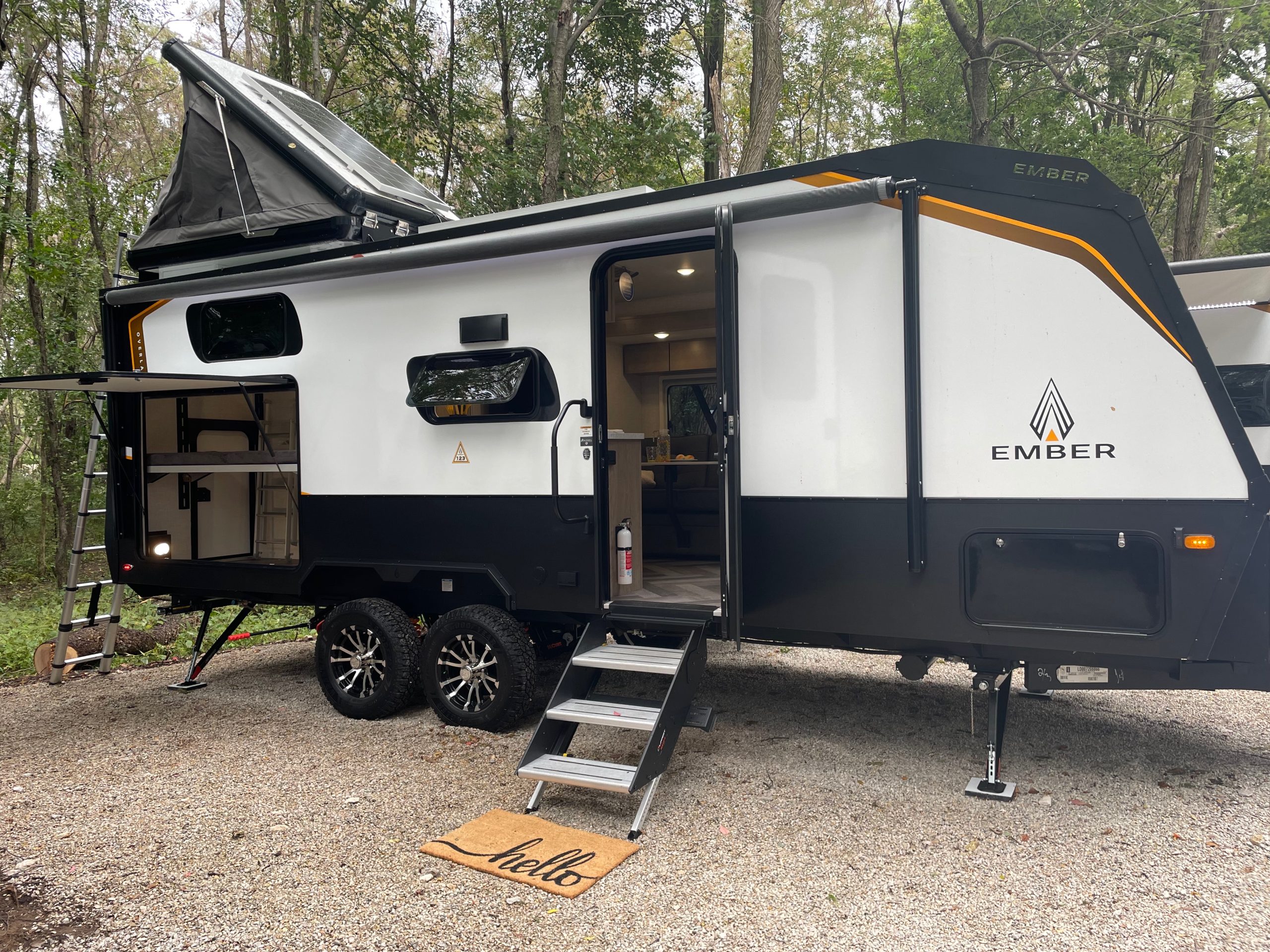 Ember RV welcomed visitors to its headquarters with a campground display of its units.
Day 1 at Open House in Elkhart, Indiana, started off rainy and cloudy and gave way to sun and wind. The parking area by the Hall of Fame — now in the shadow of a new 4.5-million-square-foot Amazon distribution center set to open in 2023 — may have been a bit muddy, but was looking busy by noon as people stopped by the Suppliers Show – for dealers only today – and visited THOR brands and nearby independent brands.
The RV/MH Hall of Fame is home to this year's Supplier Show, a portion of the event debuting new products and services from OEM and aftermarket suppliers. The show opened early this morning and vendors say they're excited to be back after two years. For some suppliers, Open House is the last or only show this year to see new offerings in-person. While the Supplier Show's first day garnered a smaller turnout, many vendors are expecting to form new partnerships and are excited to talk products with RV dealers throughout the week.
Dealers, some with their families and colleagues, made their way to the THOR Industries section on Monday morning to see new units from brands such as Jayco, KZ RV, Tiffin Motorhomes, THOR Motor Coach and more. The parent company opened its exhibit early and hosted lunch in the THOR Pavilion for dealers. Other major manufacturers such as Forest River and Winnebago Industries opened later, and later in the week, all manufacturers will be open to vendors and the general public.
Ember RV welcomed visitors Monday with a warm wood fire and homemade chili, showing off their new models in a "campground" setting next to their headquarters off Commerce Drive in Bristol, Indiana. The brand's Overland 221 MSL with one slide has a flex space that can be used for two bunk beds or turned into a desktop or additional counter space, complete with an open-air view that can be screened off as well. Ember also introduced its Touring editions featuring a new composite flooring called Evermore, a standard dinette or optional freestanding table, outside kitchen and Goodyear 16-inch Endurance tires. "I think that the industry has opportunity," said Ashley Bontrager Lehman, referring to what's ahead, even as the market is seeing some downturn.
RV PRO thanks the RV/MH Hall of Fame for serving as its makeshift headquarters this week, and being the "downtown" of this year's Open House.