News
Florida RV SuperShow Lighter on Attendance, But Stronger on Commerce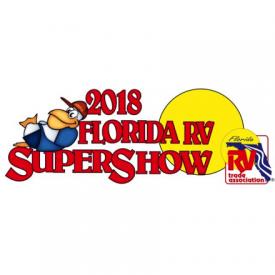 Taking a break to speak to a reporter before heading back over to the Florida State Fairgrounds in Tampa to work on cleanup after last week's 2021 RV SuperShow, Dave Kelly, executive director of the Florida RV Trade Association, couldn't help but sound like he was smiling through the phone.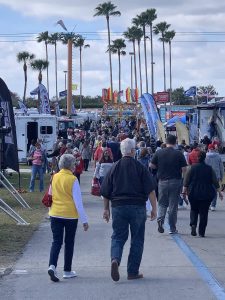 "What I've heard from dealers and manufacturers is that they were extremely happy with this show," Kelly told RV PRO Tuesday afternoon. "Considering the attendance was down, they were very, very happy with the activity that they got – units sold, compared to some of the years when we've had 25 percent more of the people than we had."
Attendance for the four-day show – which ran from Wednesday, Jan. 13 through the weekend – was estimated at about 60,000 people.
Kelly said he estimated that about 10-15 percent of the missing crowd were Canadian citizens – the snowbirds who would normally flock to the Sunshine State in a non-COVID year.
"I'm sure a big part of our drop was the Canadian visitor," Kelly said. "They normally fill the campgrounds up this time of year."
But those who did show up to the 36th annual edition of the SuperShow more than made up for what organizers missed out on at the gate.
"It just seems like people that came were in the market to buy, and not to just come and look and kick tires and eat corndogs – they were there to do business," said Kelly. "And I think a lot of it has to do with them having shopped the last four to six months and not being able to find what they're looking for. And here it is, right here in front of you. Basically, I think the dealers' pitch to them was, 'If you want it, you better buy it, otherwise it'll be the fall before you ever can see another one of these.'"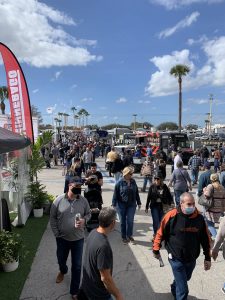 If there's a downside to that part of it, he added, it's that some dealers may have a hard time bringing inventory to some of the smaller regional shows the FRVTA has coming up.
The live entertainment was a hit, as always, Kelly said, and The Super Rally celebrated its 34th year at the SuperShow.
Kelly said that because of the ongoing pandemic, he and his team were nervous about putting the show on but knew that it was something a lot of people wanted – a face-to-face trade show. He and his team worked closely with local health officials, he said, to make sure everyone involved was in compliance with the rules, and in the end he said he couldn't be more pleased in how it turned out.
"I was really, really surprised at how cooperative the dealers, the manufacturers, the booth exhibitors and general public were to everyone," said Kelly, who's been executive director of the FRVTA only since August but is in his 33rd year with the organization. "They were wearing masks inside, they were wearing them outside, they were social distancing – I don't know how much hand sanitizer we went through, but every time we turned around someone was standing by one of our hand sanitizer stations.
"I always say, the RVing public is the most down-to-earth, cooperative, understanding, patient (group of people) … and I was really, really impressed with how everyone did their part to ensure we were able to pull this event off."