News
Foland Show Encourages Dealers Amid Industry Consolidation
This article is from our older website archives. Some content may not be formatted or attributed properly. Please
Contact Us
if you feel it needs to be corrected. Thank you.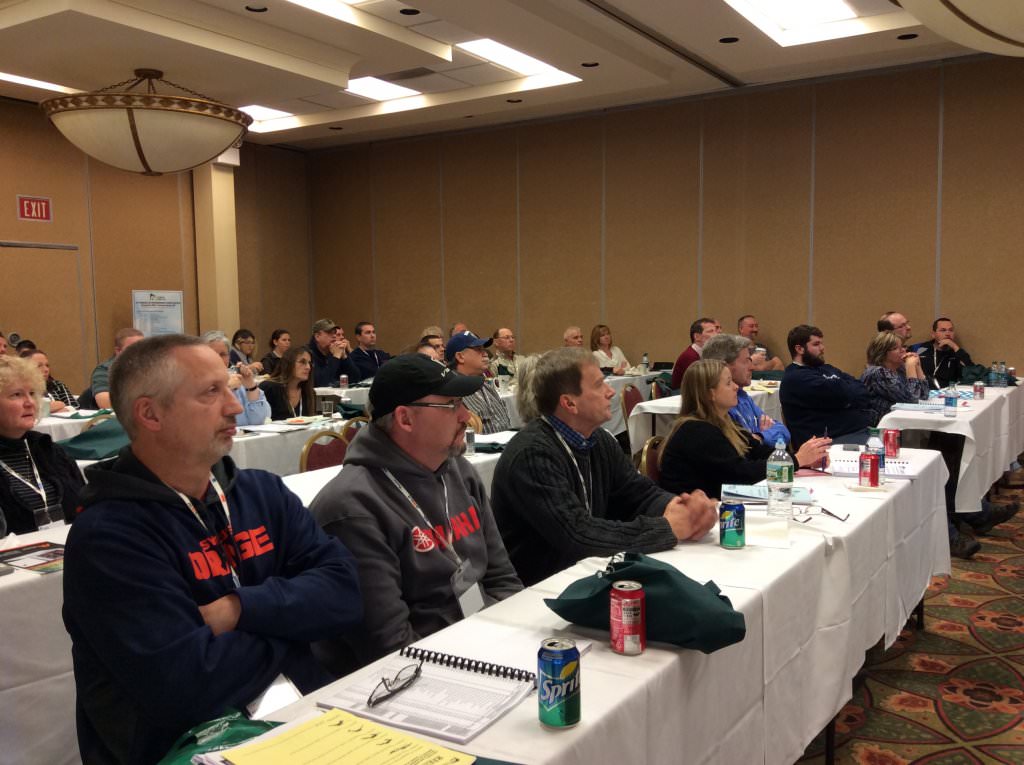 Freezing temperatures in the Midwest and Northeast didn't hamper dealers and suppliers last week from attending Foland Sales' three-day annual show in Saratoga Springs, N.Y.
---
Attendees at Foland Sales annual show listen to a business seminar on the show's opening day. Photos courtesy of Charlie Foland. 
---
"It was very upbeat. The moods were good, and people seemed encouraged," owner Charles Foland said.
Despite chilly weather, which dropped into the single digits, Foland said optimism among his customers was high, though looming industry consolidation left many attendees apprehensive about the business landscape in 2015.
"There were a lot of questions in their minds about the future of distribution, and where the industry is going," Foland said.
A positive industry forecast for 2015 provides comfort to many in the industry, but amid the economic rebound, consolidation has stepped into high gear.
In the past two weeks, Thor bought Cruiser and DRV and national chain Camping World bought one of the Midwest's largest dealerships, Tom Raper RVs, deals that followed a fall season marked by acquisitions that included the purchase of Skyline RV by EverGreen, and distributor giant NTP purchasing Stag-Parkway.
"The biggest dealers in the country are getting bought by the largest dealers in the country," he said. "It's not the mom and pops that are getting bought up or even the mid-size dealers, but the mega-dealers who are getting bought."
Dealers and suppliers talk shop at Foland Sales show, Jan. 7-9 in Saratoga Springs, N.Y. Click image to enlarge.
With the industry's biggest players buying other large businesses, Foland said small- and mid-sized businesses, such as his own and those of many of his customers, don't feel exempt.
Regardless, his message to attendees was that Foland Sales isn't going anywhere.
"We were looking to show stability," he said. "We're an old company, and we've had a lot of different faces on this company, but it's still Foland Sales, and it's been Foland Sales since 1932."
The foremost concern is if there's room in the industry for small business, Foland said.
"I had a couple of them say to me, 'Where do we fit into this big picture?' As they see all this consolidation going on, they say, 'Can we continue to be competitive?' And I think they can. I think there's a lot of room for them," Foland said.
For Foland, there's no secret to the approach, which is the same approach he said his family has had to the business since it opened in 1932.
"There's no magic bullet here," he said of his reply to worried business owners. "Just keep doing what you're doing, as long as what you've done in the past is right. I think you're always going to have attrition and things are going to change."