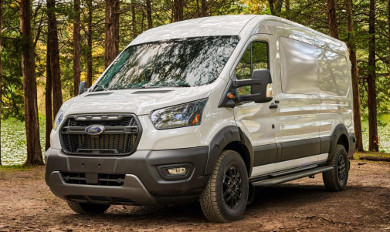 Ford's new van, and a river
Ford Motor Co. wants to make "living in a van down by the river" a bit more comfortable than late comedian Chris Farley – a cousin of the automaker's CEO – made it out to be in a well-known "Saturday Night Live" sketch from the early 1990s.
The Detroit automaker on Thursday revealed the 2023 Ford Transit Trail Van, a new lifted model of its full-size van equipped with all-wheel-drive and more durable, off-road parts for outdoor enthusiasts. It also comes ready for customization, also known as "upfitting," to turn the vehicle into a living or sleeping space.
Ford is attempting to cash in on the boom in sales of recreational trailers and vehicles during the coronavirus pandemic. Ford already is one of the main companies that provides trucks and vans to upfitters to make them into RVs. It also has launched a slew of off-road vehicles in recent years such as the Ford Bronco SUVs and F-150 Tremor pickup.
\"We will have more demand than supply, based on all the numbers we see," Ted Cannis, CEO of the automaker's Ford Pro commercial vehicle business, told CNBC.
Ford is touting the Transit Trail Van as a gateway into "van life," a community of travelers who fully or partially live in their vehicles. Photos released Thursday by the automaker show the vehicle immersed in a scenic setting, including a couple who appear to be living by a river.
Click here to read the rest of the story from Michael Wayland at CNBC.
And, just in case you forgot – Happy Friday!