RV News
Gallery: Bowlus Road Chief Introduces Yacht-Inspired Travel Trailer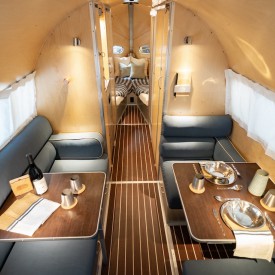 Bowlus Road Chief recently introduced the 26-foot Wave Bespoke Edition with an exterior of solid, 2024 aircraft-grade aluminum. Walnut, birch and anodized aluminum adorn the interior. The travel trailer features high ground clearance, an independent torsion suspension and a low center of mass.
On the interior, the seating fabric is an organic, vegan, matte texture that resembles a soft suede.
A main sail white was brought into the seating for the contrast piping.
The Bowlus Road Chief spine, that spans from the front door to the tail, has been made in aluminum with piping in Marina Del Rey Blue. The birch wood flooring has been upgraded to yacht-quality walnut and holly to match the walnut wood tables.
The electrical power system includes a pure sine 2,000-watt inverter, 80-amp fast charger and 4 kilowatts of lithium iron phosphate batteries for seven-day, remote adventures. The entire power management system is connected via Bluetooth so that it can be accessed on a smartphone. There is an optional solar panel.
This Bowlus Road Chief is available in a limited quantity for $225,000.