RV News
Grounded Launches Fully Customizable Smart Electric RV

Grounded, an electric RV startup founded by ex-Tesla and SpaceX engineers, has launched what it said is the world's first fully customizable smart electric RV.
The Grounded G1 is a state-of-the-art RV that features sustainable travel with layout customization, solar power and zero-emissions, the company said.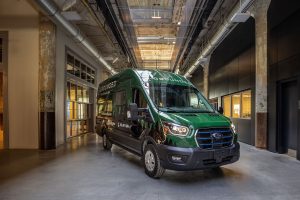 Grounded will begin delivering its first G1s via a monthly subscription model, annual lease and direct purchase in April 2023. The company developed the G1 in response to a growing demand for spending time in nature and the outdoors, which has coincided with infrastructure development that will finally support outdoor recreation with electric vehicles.
"The Grounded G1 gives people the freedom and self-reliance to live, work and explore anywhere, sustainably integrated with nature," said Grounded CEO Sam Shapiro. "I started Grounded to redefine what's possible in an industry rife with offerings that are both dated and out-of-reach. The G1 features innovations inside and out, providing RVers the best possible user experience. We've designed a new assembly system that allows us to manufacture customized designs at scale, and our library of components enables a near-infinite amount of layouts. Fully integrated electronics, which can be managed through the Grounded+ app, provide a smart RV experience, giving a detailed view of how much energy each on-board appliance is using and the ability to remotely control all aspects of the vehicle and living space. Built-in solar powers appliances and augments the powertrain charge. Our monthly subscription model, priced at less than the median cost of rent across the U.S., brings flexibility to those who aren't looking to commit to a full vehicle purchase. The advent of the G1 marks an important step in the future of the RV industry."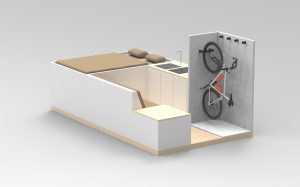 Key features of the G1:
The G1 is built on Ford's E-Transit platform. The current generation of this chassis has a published range of 108 miles. Grounded will begin manufacturing the G2, with a range of 250 miles, in July 2023.
Both the powertrain and the living systems of the G1 are fully powered by electricity and aided in part by 650-Watt solar capacity.
A modular interior allows users to shape and define the space with infinite layouts to meet individual needs.
Grounded's proprietary software connects all the electronics used, allowing RVers to view usage patterns, control surroundings and diagnose potential issues.
The Grounded+ app provides a single source of information and control.
"Imagine finishing up a cold hike and using your Grounded+ app to start your van and heat up the cabin before you get back," said Shapiro. "The G1 is shaping a new future for connected electric RVs."