News
Guest Blog: Creating Content & Sharing It Across the Web, Part 4 (of 4)
This article is from our older website archives. Some content may not be formatted or attributed properly. Please
Contact Us
if you feel it needs to be corrected. Thank you.
Welcome to our fourth and final article on Website Marketing From The Ground Up.
In this article, we are going over how to create content that sells and the best places to share your content across the web.
Leading up to this point we have gone over three major topics to get your website marketing off on the right foot: Google Analytics, the Customer Buying Cycle and How To Rank Your Dealership In Google.
As you have probably noticed there has been a really consistent theme running through the entire series. And that is how to establish what your perfect target market is searching for and how we can integrate that with what Google wants in order to send targeted leads to your business.
But there has been one thing that has been the driving force behind all three articles. Can you pick it out? Content!
How Content Drives More Traffic to Your Website
The traffic to your business is dependent on the number of industry related high quality pages that you have on your website.
All throughout this series I've been listing out some of the top landing pages, content, that your RV Dealership needs in order to rank in Google and drive more traffic to your business under that keyword phrase.
Let's think of each topic as a traffic bucket. The more topics your website talks about, the more traffic opportunities your website has. (See image below)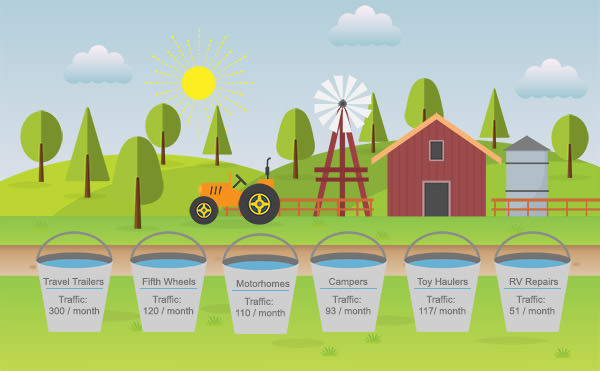 For instance, if your website only has a page for each class type and a repair page, you have a limited number of pages that can rank in Google and thus limiting the max number of visitors that can view your site. So, a maximum of 791 visitors per month.
If there are a maximum of 300 people in your area looking for travel trailers, you will never, ever have more than 300 visitors unless your town grows substantially or unless you open up shop in a new city.
Because you can't easily manufacturer more traffic to your travel trailer page, you will need to create more industry related content to attract new visitors to your business.
Mapping Out What Content to Write
Up to this point, there has been an overwhelming amount of topical ideas to start writing about.
But first, let's get organized.
I would first recommend creating a Google or Excel Spreadsheet and start listing out all of the articles that you would like to update.
To write this series, I created a Google Spreadsheet that listed out the four articles, their title and each of the main topics for each.

I prefer to use some sort of online spreadsheet as you are able to share it with staff members. This will allow you to spread out the writing duties to numerous members in order to get everything done faster.
What to Write About
Let start with the low hanging fruit.
In my first article on Google Analytics in the Behavior Overview page, I mentioned how to audit the current pages on your site to see which ones had traffic, above 20 visitors per month, and a bounce rate of over 75 percent.
Start with the current pages on your site to see what pages you can update easily and add them to your spreadsheet.
Next, let's update our direct sales pages.
In my prior article on the customer buying cycle, I went over a list of the top four stages that lead buyers to your business. In my opinion, I would start with creating content for the Novice, Expert, Client and Newbie in that order.
With the Novice and Expert it is essential that your website covers that major traffic generating topics that leads to sales. So, ensuring that you have a page for each class type, brand and floorplan that you sell. If you don't have a page for, let's say, travel trailers, you will need to create one.
You will also need to go through each product, service or RV landing page and update each of those.
Basically, coming up with what to write about is all about what your customers are searching for and prioritizing it in accordance to your top ROI avenues. Go back and re-read the Customer Buying Cycle article to get caught up if you haven't already.
Huge Tip On How to Write!
One of the easiest avenues that RV dealers are using for automated content for their RV listings is the data feed from their web service company or from NADA. This is a great way to get the specifications for your listings, but that shouldn't be all!
I see the same content on every site. Year, make, model, length, weight, yada, yada yada. And the only thing different from dealer site to dealer site is the background behind the RV image. It's all the same.
I'm not saying this to blast RV dealers, as these data feeds are great, but I wanted to point this out as a huge opportunity for RV dealers to really stand out.
It's time to get back to wooing customers through crafty sales content. And that is done by going back to the basics of sales content outline where every page has the following:
Intriguing title
Catchy intro image
PDF download if applicable
Video (walkthrough or tutorial)
Body content with personality
Written or video testimonials
Closing "call to action" or hook
This sales content outline isn't anything new, it's been around since 1888 when Richard Sears first used a printed mailer for advertising.
Now that we have a list of what to write, an outline for creating content, how much content do you need to write?
How Much Do You Need to Write?
Brian Dean, with Backlinko, published a search engine case study where he analyzed more than one million search results to see if they had any common threads that enabled them to rank on the first page of Google. Here is what his case study showed: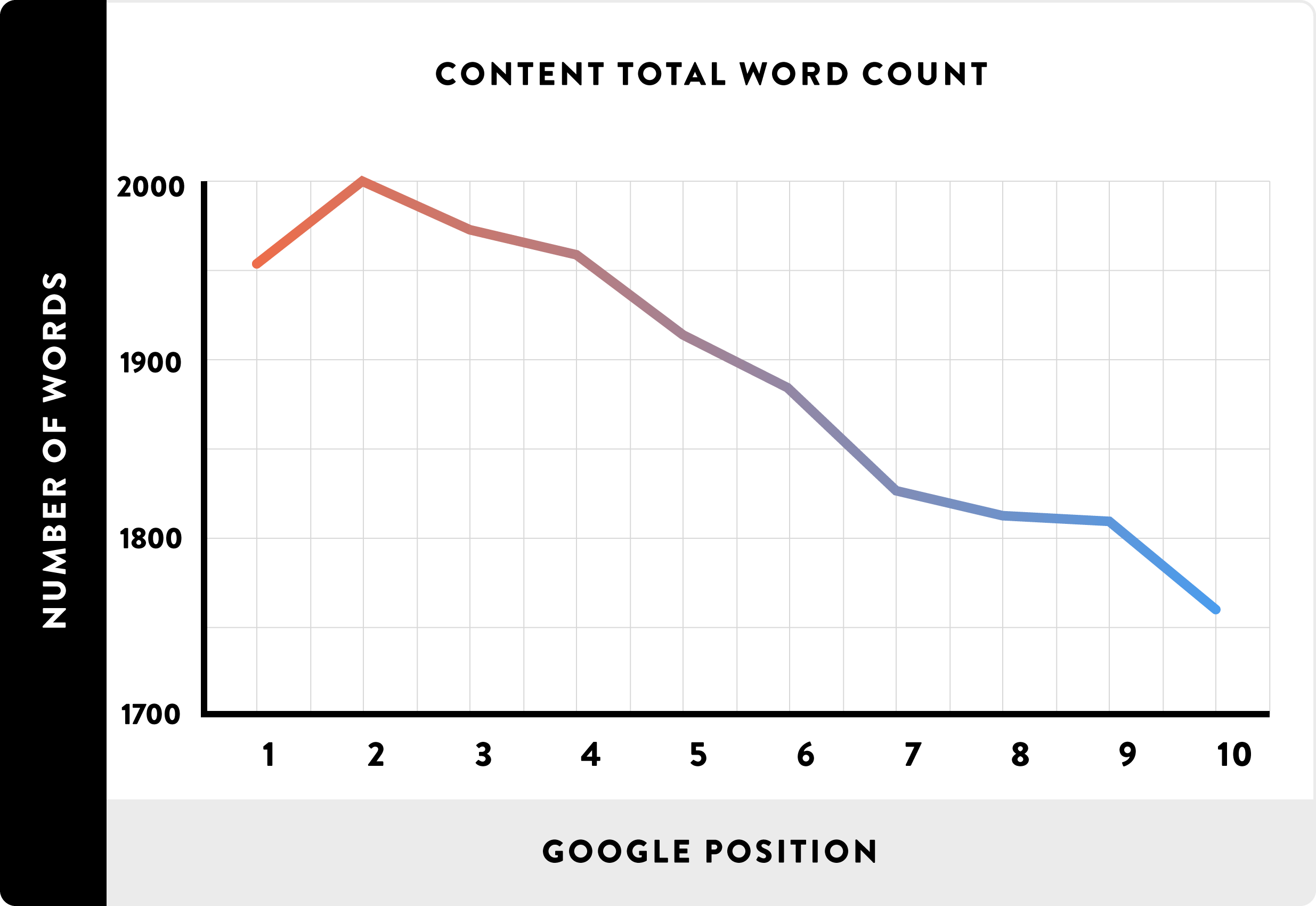 After analyzing over 1 million search results, the common thread with ranking on the first page of Google was the total word count. Think about it, if you want to read about Abraham Lincoln, his youth, presidency, Gettysburg Address or the assassination, do you think it could be covered thoroughly in two paragraphs and under 500 words? No way!
I just pulled up the Wikipedia page for Abraham Lincoln and it currently has 15,453 words and ranks #1 in Google for Abraham Lincoln. Why? Because it's incredibly thorough and covers every major area in his life. Thus, other websites online are willing to link to it and share it on social media as the all-in-one reference on Abraham Lincoln.
Shocking Case Study of Top 5 2016 Travel Trailers Word Count
As the study from Brian Dean is of the general nature, I wanted to do a quick case study on within the RV industry to see how the word count related to rankings in Google.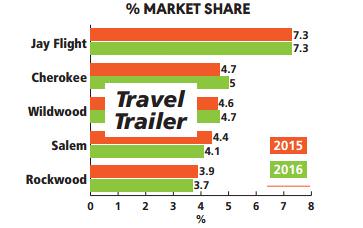 In this month's copy of RV Executive Today, Jeff Kurowski lists out the top five travel trailer sales as a percent of market share. The top five travel trailer sales of 2016 are: Jay Flight, Cherokee, Wildwood, Salem and Rockwood.
In this case study, I did a Google search for each travel trailer brand and recorded the word count, image count, PDF count and video count for the top 10 rankings pages.
I wanted to see if Brian Dean's general case study on word count and a RV specific case study would show similar results.
Here are the results: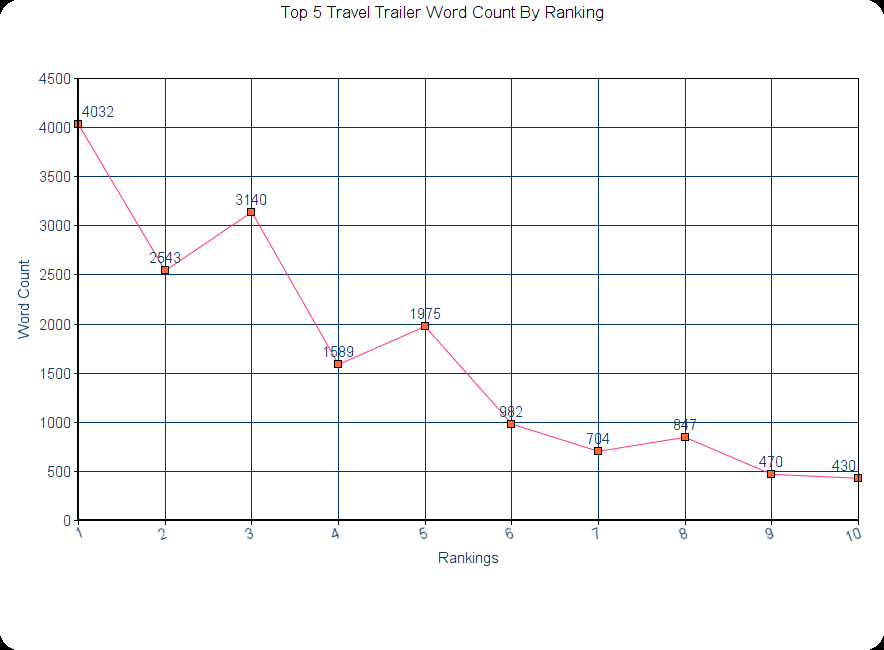 The results show that having a high word count when trying to rank for the most popular RVs for sale is crucial.
What also didn't surprise me was the image count for each page ranking on the first page of Google. It shows that pages must have more than 20 images in order to have a chance at ranking on the first page.
Here are those results:
What surprise me with this case study were the number of PDF's and videos presented on each page.
After looking at every site listed on the first page there were only two pages that showed a link to a PDF and only one page that showed a video.
As videos are exploding in popularity, I can see those results changing rapidly in the next year or two.
The important takeaway is that quality content is the ground roots to a successful website.
A HUGE word of warning!
Do NOT, I repeat, do NOT copy content or images from another website or publication and republish it on your website unless you have direct permission from the author. Even in the case of Brian Dean's word count graph and Jeff Kurowski's market share chart, I reached out to both of them in order to gain permission for usage since I didn't create it.
How Related Media Increases Sales

Tons of well-crafted content throughout your website is huge. But what helps keep visitors on your site longer and increases conversion is the media that's intertwined on your site. Media comes in all different types. But for RV Dealers and the industry, the most popular media types are images, videos and PDF's.
As mentioned in the sales content outline above, it's crucial to include as many media types as you can craft onto each of your sales pages where applicable. This is to lend itself to every personality style of your visitor.
Some visitors will love watching videos, some will love going through a slideshow of images and some want to print out the pdf so that they can get off their computer and read a physical copy.
With that said, make sure that all media types are under your control and has your company attached to it in one form or another.
For images make sure to attach a watermark on the lower right with your company logo. This helps when customers see the image in Google Images, Pinterest and more.
On PDF's, don't just attach the PDF that comes from the RV manufacturer to your site. Edit the PDF brochure so that every page has your company logo on it and website address.
The same goes for videos. Everybody within the RV industry, especially RV dealers, should be creating videos of their product or service.
Here's why: If you are an RV dealer that sold 200 RVs a year, and you created a video walkthrough of each of them, at the end of the year, you will have 200 videos on your YouTube channel sending traffic back to your site forever.
That is why I LOVE video, because you can do something once, and get paid for it over and over again.
Creating A Content Calendar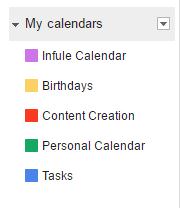 Now that we have a list of all the pages and content that we need to create, an outline of how to write them and the related media that we need to create, it's time to schedule everything out.
If you don't schedule a time to sit down and write out some content, it will never get done. One way that I'm able to schedule writing is by using Google Calendar. Since it's already integrated into my Gmail account, it makes my workflow much easier.
Within Google Calendar, you can create as many "Calendars" as you want. Each calendar will be layered on top of your primary calendar, but separated by a different color. As you see on the calendar list to the right, my Content Creation calendar is Red.
Whenever I create a new article series, like this one that is four articles long, I automatically schedule time within my day to write.
Simple enough.
Sharing Your Content Across The Web
Sharing your newly created content across the web is the easy part. The hard part is creating all that incredible content in which to share.
Once the article is written and all the media has been created, it's time to share your new page.
As every business is different in where their perfect target audience lives, where you share will vary. Always remember that when you go to share your newly created article, that you include the URL of that page on the social media site that you are posting on.
I would recommend selecting your best image from that page and share it across all social media platforms with a catchy title that intrigues visitors and a link back to the page that you created.
As I mentioned in the Google Guidelines article, backlinks to your website are huge!
Here are the best social media platforms to test:
If you don't know where your perfect target audience lives yet online, you will need to post to quite a few of them and follow up with your Google Analytics for a couple months to see which platform gives you the best traffic and conversion.
Website Marketing From The Ground Up Wrap-up
That's it! These are the last words that you will read from article four in this series Website Marketing From The Ground Up.
I really hope that you've found some nuggets of information in which to get your website marketing off on the right foot. Or, if you've had a website for a while and wanted to see where you can improve, I hope that these articles have given you a fresh perspective on how to update it to improve traffic, conversion and leads.
As always, if you have any questions on this article, please don't hesitate to write your question in the comments section below.