News
Guest Blog: How To Rank Your RV Dealership Google, Part 3 (of 4)
This article is from our older website archives. Some content may not be formatted or attributed properly. Please
Contact Us
if you feel it needs to be corrected. Thank you.
Welcome to our third article in our series: Website Marketing From The Ground Up.
So far in this series, we've gone over two very important topics that every business owner in the RV industry needs to know: Google Analytics and the Customer Buying Cycle.In this article, we are going to go over "How to Rank in Google." And no, I'm not going to be going over theories of Ranking in Google, but a step-by-step tutorial of how to change your website to outrank your competition no matter who they are!Let's get started…
Overview of Google
Google has one incredibly complex job, to provide visitors with the best search results possible based upon their keyword phrase. To do this, Google must continually crawl the entire web, or at least try to, download every web page, interpret each page and try to sort those pages to give the user the best results for what they are searching for in under 0.25 seconds.
And all we have to say is "Okay, Google."
Before I get into how to rank your website in Google, let me first explain how Google structures each search page. In almost all searches that you perform, the search results will be broken down into three main sections (see image): Google Pay-Per-Click (PPC), Google Maps and the Organic Results (non-paid).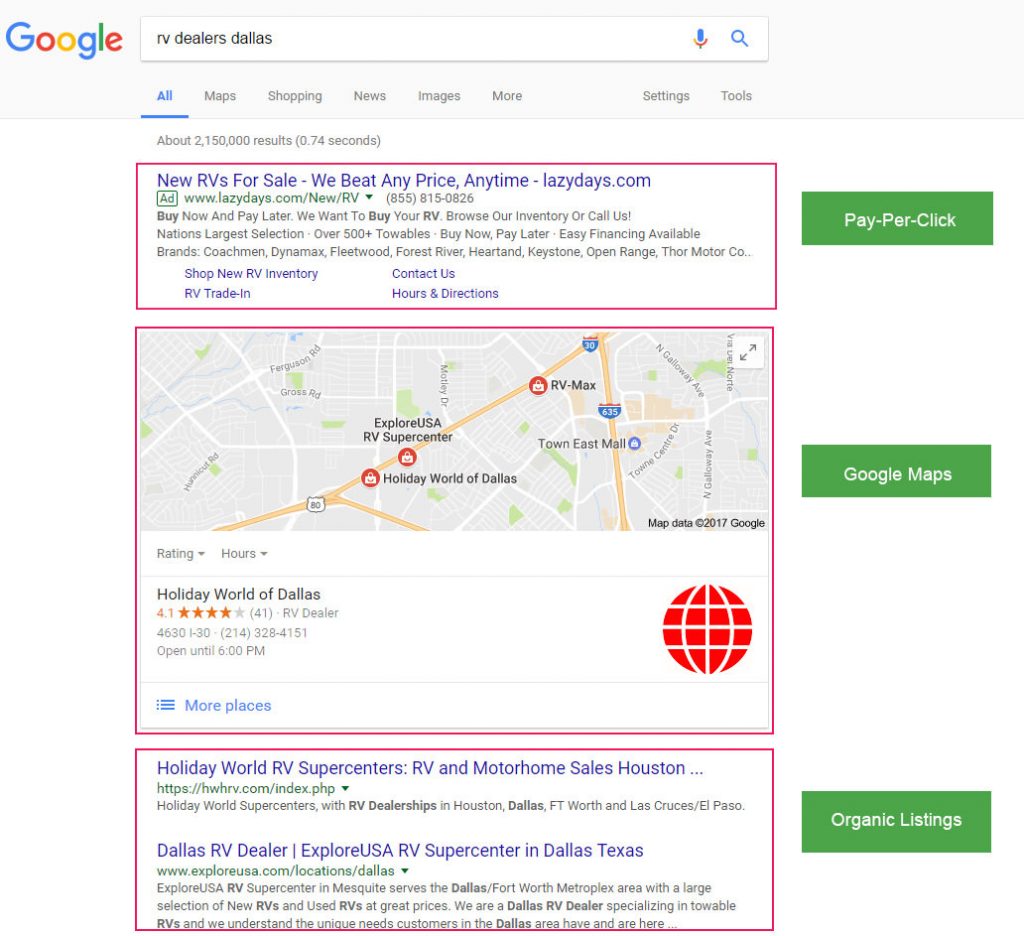 From our testing the best ROI a RV Dealer can get comes from the Google Maps and Organic Listings. So, this article is going to outline how to rank in Google for the maps and organic listing sections.
To do so, we will need to focus on two main factors: On-Page Optimization and Off-Page Optimization. Fancy words, but I'll keep it simple.
In our prior article on Google Analytics, we went over one report under the Behavior menu (Behavior -> Site Content -> All Pages) which showed every page of your site, how much traffic it received, average time on page, and the bounce rate.
Did you know that Google uses this data to see who ranks No. 1, No. 2, etc., in its search engine? It's true. If Google sees that your page for "RV Dealers Dallas" has a 100 percent bounce rate, it is going to interpret your page as not relevant to that search query. And in return, it is going to move your website down in the rankings and probably off the first page!
This is huge!
If your pages are not providing a good user experience (e.g. high bounce rate), you will not receive very much traffic from Google. That is why I mentioned to go through your site to improve each page that receives traffic and has a high bounce rate. Adding relevant and intriguing content, images and videos will help increase your page statics in Google Analytics and increase your rankings in Google. It's a win, win.
Now let me explain how we can incorporate what I talked about with the last article on the Customer Buying Cycle into increasing Google rankings. It begins with on-page optimization.
On-Page Optimization
On-Page Optimization is the process for optimizing your website for your perfect target audience and in accordance to Google's guidelines. So, we are going to mesh together the customer buying cycle with your site so that Google can rank it and deliver targeted visitors to your business.
This is how you deliver targeted visitors to your business no matter where they are in the buying cycle.
We are going to take the customer buying stages and create a site menu based upon those keyword phrases. Here's how it looks for a RV Dealer: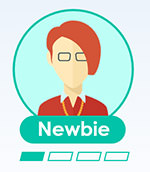 Home Page – Keyword phrase: "Your city + RV Dealer"
Blog Pages: How to Buy an RV, What Type of RV to Buy, RV Towing Guide, Renting vs. Buying, New vs. Used RVs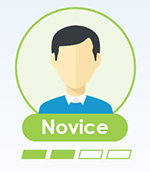 RV Sales Pages:

Create a separate page for each class type that you carry: Motorhomes, travel trailers, fifth wheels, etc.
Create a separate page for each RV brand that you carry, e.g. Thor, Airstream, Heartland, Prowler, etc.
Create a separate page for each floorplan that you have in stock, e.g., bunkhouse, rear bath, rear living etc.

Blog Pages: RV Shows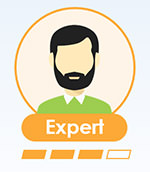 RV Sale Pages: Create a separate page for every RV on your lot
Services: RV Financing, RV Insurance
Blog Pages: How To Drive, Park & Backup your RV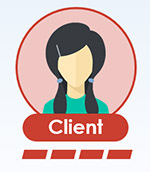 Services: RV Repairs, RV Parts
Blog Pages:

A page for each RV upgrade topic
A page for each RVing hot travel location (50 mi)
A page for each "How-to" RV topic
Here is how that looks on one of our client sites: www.ColoradoMountainRv.com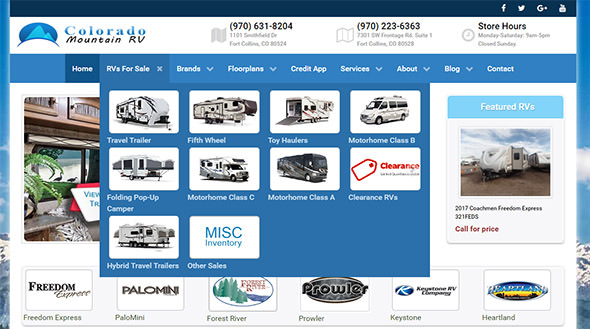 As you can tell with the top menu, it is broken down to target the Novice and Expert visitors. The RVs For Sale menu lists out all the class types currently for sale. The same goes for the Brands and Floorplans sub-menu links.
The services menu has a dropdown of the most important services to target the Client visitors.
As you can see on the right side of the menu we have a place for the blog. This is an absolute must for creating articles to target every stage in the buying process. But they are for the articles that don't need to be listed on the top menu. So, you setup a blog on your site with high quality content to lead the visitor onto your site and then to have them view your inventory.
I'll get into how to create incredible content in our next article, but for now I wanted to outline how your site structure should be setup for clients and for Google.
This style of site structure provides everything the RV buyers need to move from buying stage to buying stage and everything Google needs to download and list in their search result pages.
The question is how high Google will rank each page.
Google's Four Guidelines For High Rankings
After you have created a page to attract your perfect target market, it's time to see how high we can rank each page for their specific topics. To do so, we need to know what Google's guidelines are. In short, there are four main guidelines that Google uses for ranking a website on the first page:
Head Title
Search Engine Friendly URL
On-Page Text
Backlinks to that page
If we head back to the Colorado Mountain RV site, I'll go over the top 3 guidelines that Google looks at. For this example, let's look at the Travel Trailer page. If you are trying to rank your travel trailer page in your local city, this is what Google looks at: Head Title, Search Engine Friendly URL, and the Text on that page.
Head Title Optimization:
The title of the page is the most important aspect of ranking in Google. The head title (top pink bar) should state what the page is about. You can see the title of each of your pages by looking at the top of your browser (Google Chrome, Firefox, IE, etc). Your title is also going to be what visitors click on in Google's search results to land on your page. So this is huge!
The head title should be Travel Trailers For Sale Your City, State. This tells Google exactly what this page is about. Travel Trailer that are for sale in Fort Collins, Colo.
Do not, I repeat, do not have your head title say, "All Inventory" or Your Company name or something generic like that.
Remember, the visitors in the first three buying stages don't know your company yet, and thus are searching by your product or service and not by your company name!
We need to be as specific as possible.
Search Engine Friendly URL:
This is pretty simple, Google wants your URL to be easy to read and to have the keyword of that page in the URL.
In this example of the Colorado Mountain RV travel trailer page, the URL reads:
"ColoradoMountainRV.com/colorado/fort-collins/travel-trailer-for-sale"
See how the URL contains the State, City and the Class type + for sale? This matches the head title and further tells Google what the page is about.
Each of your URL's need to be optimized in a similar fashion. Let me show you another example of an optimized URL for a specific RV:
"ColoradoMountainRV.com/2017-coachmen-freedom-express-292bhds-travel-trailer-for-sale-fort-collins-colorado"
Without going to the site, you know exactly what the page is about.
On-Page Content
On page content is so important that I've dedicated an entire article to the topic, so I'll keep this brief.
As you can see in the above image, there must be content on the page that talks about the subject. So, it's no surprise what our text title and content will say.
Rapping Up On-Page Optimization:
In really competitive locations, trying to rank your website on the first page of Google for specific keyword phrases like "Travel Trailers For Sale + Your City" can be really hard. However, the first step is to re-optimize each page of your site using the tips stated above. Most website will allow you to update the head title, URL display and text for each page, so ask your webmaster for help in update everything.
As we just went over everything that your website needs to rank on the first page of Google's search results, it still may not be enough.
You may be asking "Why?" Because there is another very important factor that helps Google sort through the dozens of other dealers who are trying to rank for Travel Trailers Your City…
Backlinks
Backlinks are, by far, the biggest factor in how Google determines who to put on the first page.
What are Backlinks?
Backlinks are a link from one website to another. For example, if your dealership has a listing on RV Trader with a clickable link that goes from RVTrader to your business website, that's a backlink.
Google interprets backlinks as a vote to a specific page. The more backlinks that you have going to each page on your site that you want to rank for, the higher you will rank in Google's search results. Basically, it's one big networking popularity contest using backlinks as the currency.
Here's a quick example to showcase how it works:
Let's say you want to rank for the keyword phrase "Travel Trailers + Your City." If you do a Google search you will see 10 businesses listed on the first page. For sake of example, let's say that the webpage that ranks No. 1 has 10 backlinks going to their page and the webpage that ranks No. 10 has one backlink. (See Image)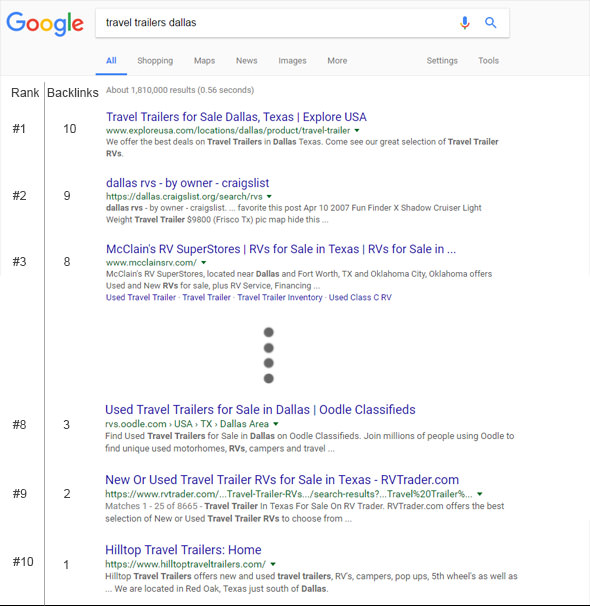 If your travel trailer page doesn't have any backlinks going to it, it will probably not overtake the tenth position (Hilltop Travel Trailers). So, if you want to rank on the first page for Travel Trailers and you are in a competitive market like Dallas, you will need at least two backlinks pointing to your travel trailers page to outrank the No. 10 position.
Remember: The backlink number in the image are only for sake of example and DO NOT represent the actual backlinks that each page really has. I created it just to show you an illustration of how the power of backlinks can influence rankings.
The same goes for all other pages on your site that you want to rank on the first page of Google where it is highly competitive. Each page will need backlinks to increase rankings.
Keep in mind that some markets may not be very competitive and the on-page optimization tips listed above may be enough to even place you No. 1 overall in Google. I would recommend updating your on-page SEO and wait a couple months to see how those changes have increased your position in Google.
One easy way to build backlinks to the pages of your site is to talk to manufacturers, suppliers and any other local business you have a relationship with and to ask them to place a link on their website to the page you really want to rank.
For instance, if you want to rank your Travel Trailer page and the first page, and you already optimized it, then reach out to all the manufacturers you already buy from and ask them to add your business listing on their site with a link to your Travel Trailer Page. Not your home page! This is huge!
If the Novice is searching for Travel Trailers + Your City in Google, and that class provides the best ROI for your dealership, why would you want to build up your home page with links? Don't. The less steps that your buyer has to go to land on your travel trailer page the better. It still doesn't mean that can't browse your site, but they've landed on what they were searching for first. That's the key to higher Google rankings, more traffic, better Google analytics data and most of all, more sales!
Tracking Google Rankings
It's easy to track where you rank in Google. I would suggest creating a simple spreadsheet with 13 Columns. Column one is the Keyword, Columns 2 through 13 as January to December.
Make a list of all the keywords you want to track down column one. Example: Travel Trailers Your city, Fifth Wheels Your City… Followed by the brands you want to track and any other specific keywords you want to rank for. (See Image Below).

Then do a quick search in Google to see where you rank. Since there are 10 listings per page, if you start out listed in the fifth spot on the second page for a specific keyword, you rank No. 15. Write 15 in this month's column. A ranking of No. 25 is the fifth position of the third page. Then as the month's change, you can update where you rank and see the progress. Pretty fun!
Keep in mind that with higher rankings in Google, your Google Analytics will start increasing as well. Then, the more content you create the more opportunities you have to rank and drive traffic to your website. More quality unique content = more traffic = more leads!
Stay tuned for the next article in our series Website Marketing From The Ground Up where we will be going over "Creating Stellar Content & Sharing It Across The Web."