News
Guest Blog: Website Marketing from the Ground Up, Part 1 (of 4)
This article is from our older website archives. Some content may not be formatted or attributed properly. Please
Contact Us
if you feel it needs to be corrected. Thank you.
Welcome to the first of a four-part series: Website Marketing from The Ground Up. This first installment covers Google Analytics.
Recently I received a call from an RV dealer who we will call "Steve." Steve was frustrated with his website and the lack of results he was getting.
Have you ever felt the same way?
My first question was: How much traffic do you receive on average every month and where does it come from?
Steve: I don't know.
Me: Do you know where you rank in Google in your local city for RV sales and what your conversion rate is?
Steve: I don't know.
This is one of dozens of such calls that I receive where dealers say basically the same thing – and I'm sure it won't be the last. The lack of hard data is what drives business owners to be frustrated and to say that their website isn't working. Most of the time they are right, but it's only by hard data that we can make that claim.
Because of conversations like this, I wanted to create a short series to walk RV dealers through how to setup their website from the ground up. If you are not an RV dealer, don't worry, as the tips that I'm going to walk you through will help all businesses identify where they are, along with simple tips to increase two to three times more leads in six months.
So, let's get started.
This series is comprised of four sections: Google Analytics, Your Customer Buying Cycle, How to Rank in Google, and Creating Content that visitors love and sharing it across the web.
Google Analytics: What You Need to Know
In today's article, we are going to be talking about Google Analytics. Just as with the phone call conversation above with Steve, we need to analyze hard facts about where you are and what you need to improve. And Google Analytics is the best place to start if you are frustrated or unsure.
Google Analytics is a website static tracking software that tells you everything you need to know about the visitors going to your website and your website itself.
Most businesses reading this will have some statistic tracking software setup on their website and some history data already built up. If you don't know, ask your website administrator if they set up Google Analytics and for access to your account.
As most web design companies automatically setup Google analytics, this article is going to walk you through the top areas you need to check monthly and what referring businesses you need to fire. Yikes! It's harsh, but hard data is the driving force behind getting the best ROI for your marketing strategy.
Quickly, if you do not have any website stat tracking software installed on your computer, go over to Google Analytics here, sign up for an account, and they will have tips on how to get started. If you just built your website or installed Google Analytics for the first time, let the program run for a month and then revisit this article.
Google Analytics Overview
When you first login to your Google Analytics account, your default landing page will be the Audience Overview (shown below). This page, and all others, will have the similar layout with the main menu on the left, the data table in the middle and the calendar range on the upper right.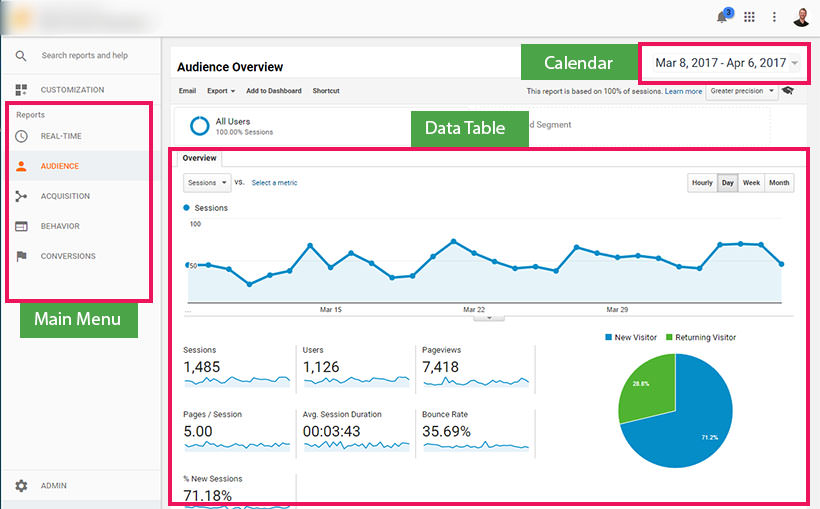 The four most important pages that you will want to visit regularly are the:
Audience -> Overview
Acquisition -> Overview
Behavior -> Site Content -> All Pages
Conversion -> Goals -> Overview
On the upper right side of the page you will see a date range, most likely the last 30 days. You can select the date and change it to any period that it has data for. While you have the calendar display open, you also will see the button "Compare to:" where you can select previous period or previous year.
The "Compare To:" function is a super powerful feature that allows you to see how your website compares to any other time period. You can use the calendar on any menu page throughout the site.
In this article, I'm going to merely go over the essentials of what you need to be looking at, but you can feel free to browse deeper into each section to get more detailed information on each topic.
Audience Overview
The audience overview page shows you how many unique visitors your website had, how long they were on your site, the number of pages they viewed, and your Bounce Rate.
Your bounce rate is crucial. It shows the percentage of visitors that visited your site and immediately left. This basically shows that the page they visited didn't meet their needs.
Once again, feel free to compare this month to the last month, or the year before to see how your traffic is fluctuating.
Big Tip: If you click on Audience -> Users Flow, you can see how customers flow through your website and what the drop-off is for each page. This will help you to determine what customers click on when they hit each page and what page causes them to drop-off, or leave. This is crazy useful for optimizing your site to increase conversion, which we will talk about later in this article.
Acquisition Overview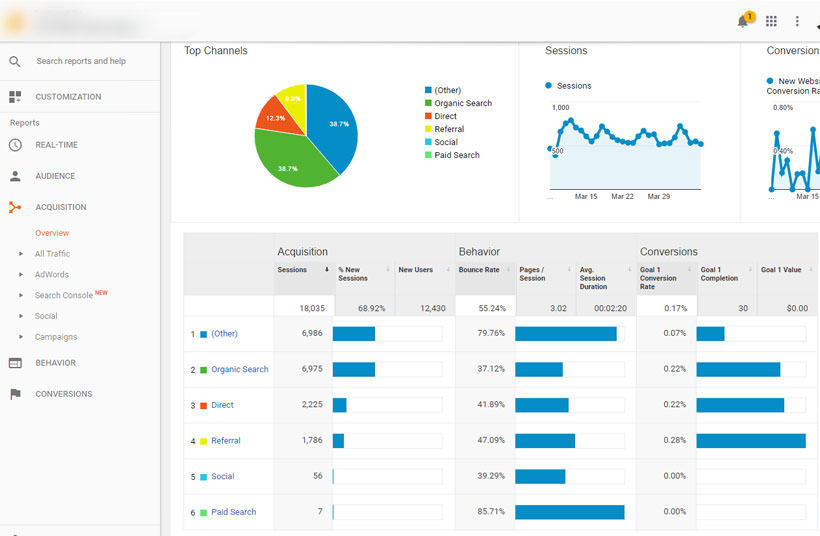 Now that you viewed how much traffic your website receives in Audience Overview, let's look at how that traffic ended up on your site. If you click on Acquisition, then on Overview, you will see a pie chart followed up with a list of the main channels that your traffic came from:
Organic Search: From the natural, non-paid, rankings in search engines
Referral: Traffic that comes from other websites, like RVTrader, RVDA or manufacturer websites.
Direct: These are visitors that type in your website address and view your website directly.
Paid Search: Comes from Pay-Per-Click (PPC) campaigns that you run on Google, Facebook or any other campaign.
Social: This is obvious; it categorizes all social media sites that you receive traffic from including: Facebook, Twitter, Instagram, Pinterest and others.
Feel free to click on any of the channels to get a more detailed look into how your visitors came to your site.
Big Tip: One of my favorite channels to view is the Referral Traffic. Why? Because it tells me all of the traffic that other websites send to my business. For instance, if you pay another company to send traffic to your website (i.e., RVTrader, YellowPages, Dex), this is the location you can see exactly how much traffic they are sending you and what the bounce rate is.
For example, if you are paying $200 a month for a Yellow Pages website listing and you see that Yellow Pages only sends you 20 visitors a year with an 85 percent bounce rate, it's time to fire them! They didn't do their job. Of course, I'm only using Yellow Pages as an example here; your referral traffic will tell you if ROI is working or not for each referring site.
Behavior Overview
The Behavior -> Overview page is nice, but lacks data. Instead, go to Behavior -> Site Content -> All Pages.
This page shows the most visited pages on your site, how much traffic each page received, the amount of time spend on that page and the bounce rate.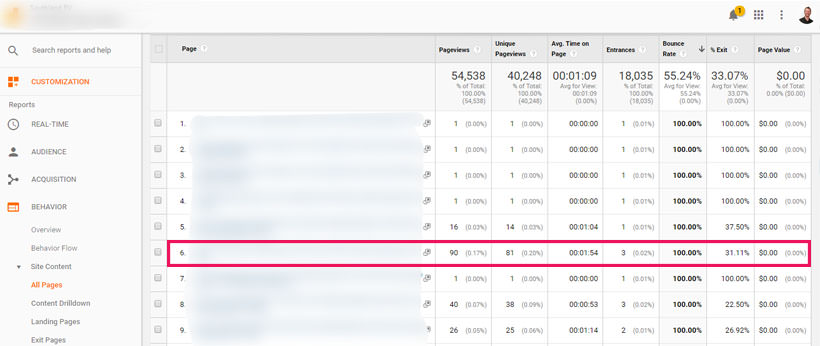 The biggest aspect to look at on this page is the bounce rate. If you scroll through the list and see a bounce rate that is really high, more than 75 percent, then write down those pages and visit them. Most of the time a page with a high bounce rate will have an error of some kind, very little content, or doesn't lead the viewer to stay on your site. Basically, it isn't captivating your audience.
In the image above, I clicked the Bounce Rate Column to sort by the worst bounce rate first. On this site with hundreds of pages, I notice a page that has 90 visitors in a month with 100% bounce rate. Yikes! That is one page that I will need to audit and update.
Big Tip: Make a list of the pages that have a really high bounce rate. If you have a lot of pages with a really high bounce rate, sort through the pages that receive the most page views and make a list of the top five and top 10 pages. Then visit each one of them and either fix the error, add more captivating content, image or videos and add a link to your contact page or another relevant page on your site.
Conversion Overview
If you go to Conversions -> Goals -> Overview you should see a list of the number of leads that your website converted during a specific time period. If you receive a message saying that you don't have any goals set up, follow their instructions on how to setup conversion tracking or contact your webmaster to have it setup.
Conversion tracking for your website has a desired result that you want to obtain. The most common example of website conversion is when a visitor fills out the contact form, clicks submit and then gets redirected to the "Thank You" page. So, any time somebody lands on that page it counts as a conversion.
Big Tip: The faster you set up conversion on your site the better. When you visited Acquisition -> Overview, one of the columns shows your conversion percentage. With this you can see what traffic channel (search engines, referral, social or paid search) converted best. Then you can invest more into the channel that drives the most traffic that converts the highest!
Setting Up Monthly Reporting
In order to alleviate not knowing how your website is doing and similar frustrations of dealer Steve referenced above, it's time to setup monthly reporting for your website.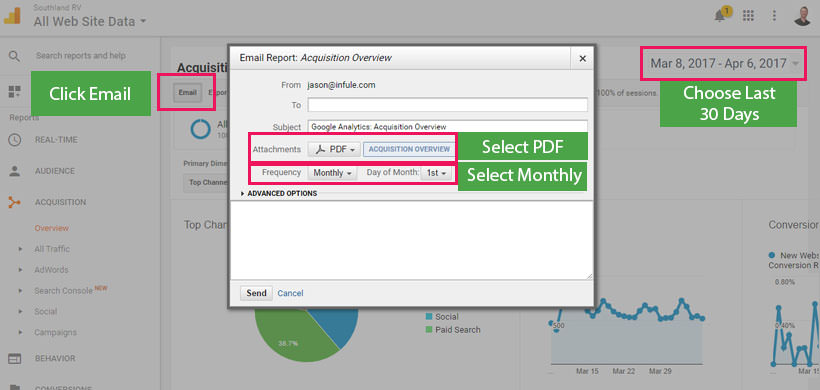 To do this, you will want to create a report for the most popular areas that you want to see every month. In my opinion those are:
Audience -> Overview
Acquisition -> Overview
Behavior -> Site Content -> All Pages
Conversion -> Goals -> Overview
You will need to visit each page again to setup email reports. Here are the steps:
Select the Date Range for the last 30 days.
Then, on the top left side of the data table underneath the title, you will see and email button. Click it.
Enter your email
Select PDF attachment – I like these because of their presentation, but feel free to change to .xlsx or csv.
Frequency – It's up to you on how often, but I feel monthly is perfect.
Click "Send."
Setting this up for the four main areas in Google analytics will send you four emails at the beginning of every month. This will allow you to take 5 to 10 minutes each month to see how your website is performing and where it may need some help.
Information is very powerful and it is what drives the decisions to make changes. But the most important thing is that you are not Steve. Moving forward you will know how your website is doing and can make educated decisions on how you would like to move forward.
If you have a question about Google Analytics for your business, feel free to email me. Stay tuned for the next article in this series where I will be going over the customer buying cycle and how that impacts your website and marketing decisions.
Until next time, have a great week!