RV News
Hall of Fame Updates on Upcoming Events, Campaign Progress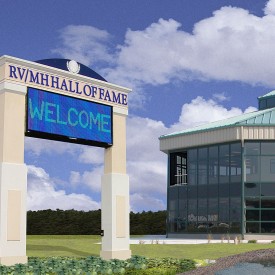 The RV/MH Hall of Fame in Elkhart, Indiana, issued a weekly word including updates on its new convention hall, 2022 rallies on the books and its 50th year induction event.
The convention hall campaign is off to a great start. With the most recent pledges of $25,000 from the RV Dealers Association and $20,000 from the Canada RV Association (CRVA), the Hall of Fame said support is steadily coming in for its new convention hall. To join the campaign or be part of the facility's progress as a founder, click here.
The Hall of Fame's 50th Induction Dinner Ceremony is slated for Aug. 15, and reservations are coming in fast. The facility expects more than 500 guests this year and recommends reserving a table or seat for the dinner as soon as possible. Click here to make reservations, sponsor the event or find more information on this year's class.
With the addition of its 1 million-square-foot blacktop surface surrounding a 21,000-square-foot, climate-controlled pavilion in 2019, the Hall said the pandemic is now in the rear-view mirror and the first two RV rallies are booked for 2022. The Hall thanked Keystone and FMCA for their consideration and acceptance of using the facility. With power distributed evenly throughout the property, multiple dump-stations, several potable water sources, carefully designed in and out traffic flow for ease of access, and an event pavilion, the Hall is a "perfect place for rallies of up to 250 coaches."
Lastly, the third and final home arrived at the MH Museum. The Fairmont/Cavco 16-foot by 76-foot is on display now.