RV News
Hart Elected RVDA Chairman; Wilkins Receives James B. Summers Award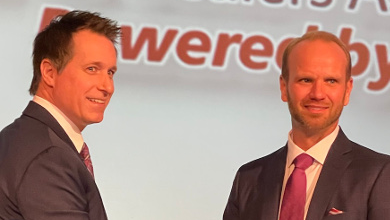 Outgoing RVDA chairman Mike Pearo, left, and incoming chair Nathan Hart
Bustling is the word that comes to mind upon entering the hallways of the conference center of Caesars Palace, Las Vegas, where the RV Dealers Association gathered for its Convention/Expo this week. With several days chockfull of workshops, an address by an inspiring keynote speaker and a busy expo floor, the event was buzzing.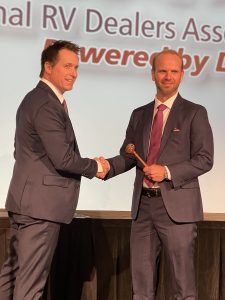 Wednesday at the annual meeting, the RVDA elected a new chairperson, turning the gavel over from Mike Pearo of Hilltop Campers & RV in Minnesota to Nathan Hart with Walnut Ridge Family RV Sales in New Castle, Indiana. Hart will serve his one-year term in 2023.
Along with Hart as chairman, other board officers elected for the coming year are:
First Vice Chairman: Ryan Horsey of Parkview RV Center, Smyrna, Delaware
Second Vice Chairman: Bob Cox of Stoltzfus RV, West Chester, Pennsylvania
Secretary: Jon Ferrando of RV Retailer, Fort Lauderdale, Florida
Treasurer: Larry Troutt III of Topper's Camping Center, Waller, Texas
Immediate Past Chair: Mike Pearo of Hilltop Camper and RV, Fridley, Minnesota
The remaining board members are:
Brad Bacon of Pleasureland RV Center, St. Cloud, Minnesota
Lane Bell of Bell Camper Sales, Bartlesville, Oklahoma
Jim Colton of Colton RV, North Tonawanda, New York
Frank Roberts of Longview RV Superstores, Windsor Locks, Connecticut
Bell and Roberts are new to the board this year, having been elected earlier in the week by the RVDA Board of Delegates.
The RV Assistance Corporation Chairman is Jeff Hirsch of Campers Inn, Jacksonville, Florida
The RV Rental Association Chairman is Scott Krenek of Krenek RV Center. Coloma, Michigan
The Chairman's Service Awards were also presented Wednesday morning, with Chris Andro, past chairman of RVDA, and Garry Enyart, an industry leader in improving Repair Event Cycle Time receiving recognition. The James B. Summers Award was also given to Brian Wilkins of Wilkins RV in New York and a former RVDA chairman.
In introducing Wilkins, Phil Ingrassia, president of the RVDA, invited all the past recipients of the James B. Summers Award to join him onstage.
"During his tenure as RVDA Chairman of the Board, and in many other industry leadership positions he has held throughout the years, Brian has worked hard to strengthen the bonds connecting RV dealers, manufacturers, suppliers, and RV owners," Ingrassia said in his introduction of Wilkins.
"His efforts to improve the RV ownership experience are bearing fruit today through the industry's efforts to improve Repair Event Cycle Time. Brian's frank – but fair – challenge to the industry to improve the supply chain and get customers back on the road has sparked many of the ongoing initiatives to streamline the service, parts, and distribution channel.
"As a businessman, his leadership has made Wilkins RV an RV retailing force in New York. The dealership also supports its community through various events throughout the year including the Wilkins Family Charitable Golf Tournament, with proceeds benefiting Alzheimer's Disease research.
"Wilkins RV is also a major donor to the Mike Molino RV Learning Center and Brian serves on its board of directions.
"Brian remains focused on the company's mission of creating enduring memories for RV owners through providing exceptional experiences.
"Brian, on behalf of the RVDA Board, and all your many friends in RV business congratulations!"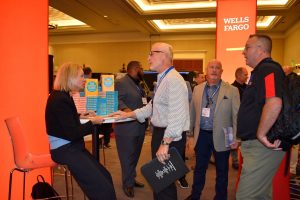 Attendees noted that the crowd at the Convention/Expo was much heavier than last year, which was the first year the event resumed following the COVID-19 pandemic. Talk at each workshop centered around the increased volume of service work that dealers are handling, following a flood of first-time buyers who entered the RV market during the past two years.
At one workshop, Jesse Stopnitzky of Performance Brokerage Services noted that dealers are focusing their attention at stabilizing business challenges after the recent whirlwind, but it was still a "buyer's market" for the time being if dealers are interested in buying to increase their footprint or selling their business.
During the packed-house keynote address Tuesday, Molly Fletcher, a former sports agent who worked with clients such as former Boston Celtics coach Doc Rivers and John Smoltz for the Atlanta Braves, used storytelling to drive home our opportunity to be "fearless at work." She said what she's admired most about working with the top athletes and sportsmen and women is their ability to overcome adversity quickly and "step into the change" knowing they would become a better person on the other side.
"Being resilient is key," Fletcher said.