News
Heartland RV To Debut New Floorplans in Luxury Fifth Wheel Line-Up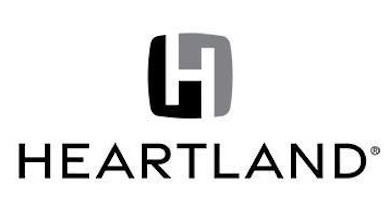 Heartland RV is introducing the Bighorn 3960LS and the Landmark Scottsdale floorplans for their luxury fifth wheel brands at America's Largest RV Show in Hershey, Pa., this week.
The two floorplans were designed with a keen focus on the bedroom and bathroom layouts, the company said.
"We always strive for what we refer to as 'room separation' and we try to give each room its own identity and function. We hope with the reimagined bedroom and bathroom floorplans, provide a seamless, attractive fifth wheel, with a dynamic layout," said Andy Wesdorp, general manager at Heartland RV.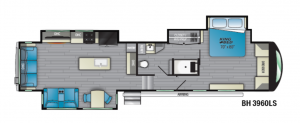 The Bighorn 3960LS utilizes Heartland RV's "slide-in-slide" technology. The main bed slide provides more space in both the bedroom and bathroom, and the secondary king bed slide adds 24-inches of floor space in the bedroom. Unique to this floorplan is the walk-through side bath toilet and shower placement which allows for more space to fit multiple linen cabinets and a massive closet, which doubles as a washer/dryer cabinet built into the slide out. The open bedroom space leads to a front bench seat under the tinted windshield, with dual dressers on either side, and three large windows in the bedroom and hallway complete the massive natural lighting in the upper deck. The living area features the best-selling rear living room layout and the "Triple Top" kitchen workspace which is featured in most Bighorn floorplans, the company said.

As for the Landmark Scottsdale, there is more space in the bedroom. Not only does this bedroom feature a slide-in-slide king bed, but a third slide out on the door side provides both hanging and drawer storage. This unit features the first Landmark "split bath" in many years, with the 54-inch teak seated shower on one side and the toilet with vanity on the other. A well-placed pocket and hinged doors offer great privacy, and the split bath offers easy access to the washer/dryer cabinet in the bedroom. Lastly, a secondary vanity is in the bedroom for 'his/hers' bathroom needs. The kitchen in this floorplan includes a 54-inch long, unimpeded kitchen island and a 'televator' – a 55-inch TV that shows off a 48-inch wide window when stored in the base of the entertainment center.
"Since our inception in 2003, Heartland RV has been at the forefront of RV innovation, in both floorplan layout and features. These two new layouts are sure to continue the tradition of leading, not following, and bringing dynamic concepts first to the market," said Wesdorp.