RV News
Heartland Touts New PDI Initiatives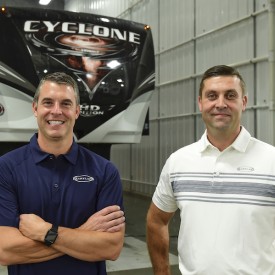 Heartland RV announced plans to introduce new programs and initiatives at its state-of-the-art PDI facility situated on its Elkhart, Ind., campus.
"We've taken a very proactive approach to PDI, minimizing the impact on dealers by shipping units that have been thoroughly tested after coming off the production line," said Ryan Juday, president of Heartland. "We're running 100 percent of our production line through this facility, which is virtually unprecedented. Our entire team is committed to taking the audit process to the next level."
Heartland recently implemented several additional processes along with ramping up its seal tech and rain bay efforts. The required system checks include inspections on critical areas for potential failure, including roof inspections, HVAC systems, holding tanks, plumbing and electrical systems.
"Our PDI begins with a seal tech to ensure we do not have leaks and ends with a final clean and inspection to deliver the best possible product to our customers," said Heartland VP of service and quality Jim Fenner. "The team we have in place in our audit facility has an unequaled drive to catch every concern before it leaves our facility. They are an amazingly talented group that cares about the quality of our products."
"We run trailers through four independent rain bays to check for leaks throughout the entire interior," said Juday. "It takes time to cycle trailers through, so the bays are full all day long. It's one of the most thorough safeguard operations in the industry."
As an additional precaution, Heartland also performs road tests, "applying a first-hand inspection for durability and function, the goal is to better our production systems while improving products for each consumer," Juday said.
Heartland has also formed product specialty service teams to "work with our production team to prevent warranty claims," according to Fenner.
"Each service liaison is tracking overall performance," he said. "They are running reports based on warranty claims and working with production team to resolve and prevent any return service trips for the consumer. It brings the process full circle by enlisting the entire company to ensure higher quality and overall attention to detail."