RV News
Hershey RV Show Organizers Report Strong Attendance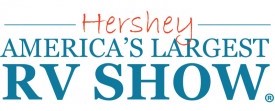 The organizers of America's Largest RV Show, held annually in Hershey, Pennsylvania, wrapped up their show Sunday at the Giants Center, reporting a total of 49,112 attendees. The event is put on by the Pennsylvania Recreation Vehicle and Camping Association (PRVCA).
"While attendance is down from last year's second highest ever, manufacturers and vendors reported strong sales," said Heather Leach, PRVCA executive director. "Interest in RVing remains high and with a tough economy, many consumers still attended to shop for their next RV. This show is always a great place for consumers to check out the newest products, floor plans and designs."
Forty manufacturers showcased more than 1,500 RVs during the five-day event, with dealer and manufacturer representatives on hand to answer consumers' questions and help them secure a great deal.
Sales were also good for the show's more than 175 vendors who sold everything from cleaning products to personal care items to camping accessories to RV parts to insurance.
PRVCA offered seminars to help consumers learn about all aspects of buying and owning an RV, and guest speakers provided entertainment and good information on a wide variety of related topics.
For the first time in three years, the show's RV giveaway was back. Liberty RV of Gettysburg and Flagstaff gave away a 2023 Flagstaff 176 LTD tent camper worth more than $15,000. Lori Murrell of Masury, Ohio, was the winner.
The show returns next year Sept. 13-17 back at the Giant Center again.