News
Hot Shot's Secret Expands RV Product Line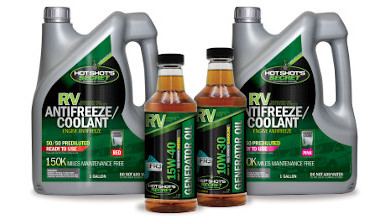 Hot Shot's Secret, the first performance additive and oil manufacturer to introduce a complete line of products specifically formulated for RV use, now offers four new products for the RV market. In addition to the gasoline and diesel fuel additives, engine oil additive, transmission additive and slide-out lubricant already on the market, the product line now includes two new 150,000-mile, maintenance-free engine antifreeze/coolants, as well as two full synthetic Group III RV generator engine oils – one for gasoline powered engines (10W-30) and one for diesel powered engines (15W-40).
Hot Shot's Secret said its two generator oils are engineered to provide exceptional protection.
For more information about Hot Shot's Secret 15W-40 and 10W-30 Generator Oils and 150,000 Mile Heavy Duty Extended Life Antifreeze, visit www.hotshotsecret.com. To speak directly with one of Hot Shot's Secret highly qualified technicians, call toll free 800-341-6516. Keep up with the latest Hot Shot's Secret company and product news on Facebook and Instagram, or by following #hotshotsecret.