RV News
Indiana Rep. Walorski Urges 'Balanced Solution' for Aluminum Tariff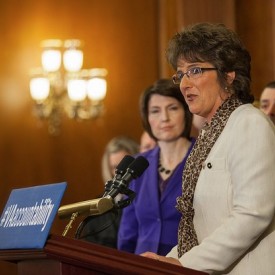 U.S. Rep. Jackie Walorski (R-Ind.) released the following statement after President Trump announced he plans to impose tariffs of 10 percent on aluminum imports and 25 percent on steel imports:
"In Indiana and across the country, we are seeing stronger economic growth, more jobs, and higher wages as a result of historic tax cuts and regulatory reforms. Unfortunately, today's announcement threatens to undo the positive effects of these pro-growth policies by raising costs for American manufacturers, including many in Indiana's 2nd District. China's unfair trade practices are a serious problem, but I'm disappointed the president does not appear to be pursuing a more balanced solution. I urge him to work closely with Congress to minimize the harmful impact these tariffs will have on American businesses, workers, and consumers."
Walorski recently met with President Trump at the White House along with a group of House and Senate colleagues to discuss trade issues, including potential actions in response to investigations into the domestic supply of steel and aluminum. She conveyed to President Trump the significant impact overly-broad tariffs or quotas on aluminum and steel imports could have on manufacturing jobs.
RV, boat, and trailer manufacturers are major employers in Indiana's 2nd District, with 15,000 direct jobs from the RV industry alone. Local manufacturers have raised concerns that tariffs or quotas would drive costs up, derailing the recovery the industry has seen since the height of the recession.