News
Inland Northwest RV Show Draws Big Crowds in the Evergreen State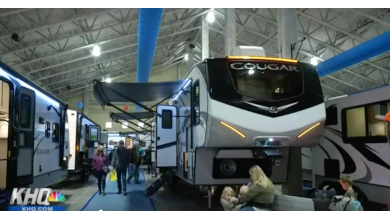 A screen grab from the report
This report comes from a Spokane, Wash., TV station, where the Inland Northwest RV show returned this weekend after a year off because of COVID.
Nothing brings people together quite like traveling–or hundreds of RVs.
"I call it investing in your family," said Steve Cody, show promoter of the Inland Northwest RV Show & Sale.
The Inland Northwest RV Show & Sale is back after last year's COVID hiatus.
"Everyone that's down here is friendly," said Cody. "They're having a good time because vacations mean happiness."
Thirty-four years of RVs, campers, vans, trailers, buses as far as the eye can see, bringing together RV show enthusiasts and first-time visitors alike.
"We come every year because we enjoy checking out what's new," said third-generation RVer Maynard Hill.
Click here to see the full report from KHQ-TV in Spokane, Wash.