RV News
John Ratzenberger Gives Cheers to the Xtreme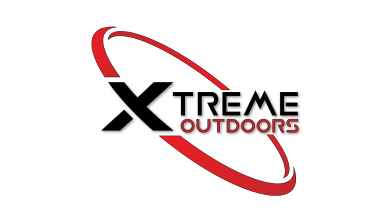 On Monday and Tuesday during Open House week in Elkhart, Indiana, last week, actor John Ratzenberger joined the Xtreme Outdoors display to greet dealers. Ratzenberger, known for his iconic character Cliff Clavin on the sitcom Cheers and for his voice talents in Pixar films, owns a Little Guy Max.
Joe Kicos, President of Xtreme Outdoors, was excited to have Ratzenberger at the Xtreme display during the week.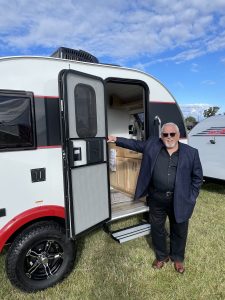 "It was great to have John at the display this week. To have someone who is in the RV Hall of Fame and who uses our product was fantastic. Dealers got a chance to meet John and hear him share some stories and just enjoy conversation with a great guy," said Kicos.
Ratzenberger grew up sailing since he was 14 and has always enjoyed overseeing his own travel. He is also a journeyman carpenter and enjoys working with his hands. As such, he can tell the difference between quality in products and shortcuts. "When I opened the drawers of the Little Guy units, the joints were dove-tailed. They could have used staples to bring it together, but that would only last two or three years. Little things like that made me fall in love with the Little Guy," said Ratzenberger.
After Cheers ended, Ratzenberger moved to the Pacific Northwest and built an estate. His first RV was a Class C that he used to he take his kids out on numerous camping trips.
"We bought an RV and hit the road every chance we could. I truly believe it changed the trajectory of my children's lives, and mine, for the better."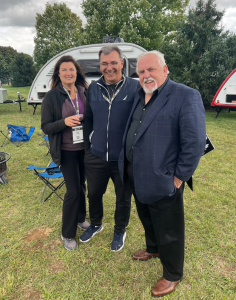 Ratzenberger quipped that his father was a truck driver, so he had his father's DNA for driving and towing. When asked if there were any trips that were memorable, Ratzenberger chuckled and said, "We were somewhere in Oregon camping and there was this fence and I looked back and said, 'Hey, kids watch this,'. I tried jumping the fence but caught my toe right on the top and took a fall and needed a cast on his ankle. Our next road trip was to the emergency room to get me in a cast."
Years later, Ratzenberger is still enjoying life on the road. Recently, he traveled to Albuquerque to work on a project with NBC.  Instead of flying first class, Ratzenberger jumped in his Jeep with his Little Guy in tow.