RV News
Keller, Lightning Distributors Merge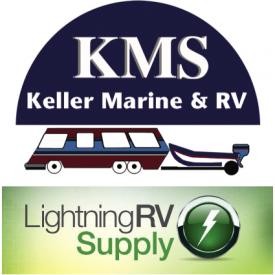 Recognizing the growing need in the RV sftermarket industry, Mike Keller, president of Keller Marine and RV, has announced the merger with Lightning RV Supply, a Tampa Fla.-based RV parts distributor.
The two companies have a longstanding relationship, and have worked for many years together.
"This just seemed like a natural fit, and the timing is right," said Keller.
Keller Marine and RV will bring its nearly 60 years of business experience and success to this new division with Lightning RV. Keller brings a number of strengths to the table, including extensive product lines, large inventory, state of the art operations and technology. Keller has been a leader in the RV business to business sector and is slated to release its 9th major revision of KWEB its business to business web site. KWEB 9.0 will feature state of the art appliance parts lookup and be free to any Keller Marine & RV customer.
Lightning RV has been in the RV distribution business for 25 years and brings the hard parts expertise with its VPS RV parts system and strong relationship of the Southeastern U.S. market. KWEB 9.0 will just enhance this position and make the combined company even stronger in the hard parts business.
Keller Marine and RV will remain in its Port Trevorton, Pa., facility and the new division with Lightning will operate out of Lightning's original Tampa location. Plans continue to build a new state of the art warehouse facility on the same property. Joining the sales team for Lightning RV is Joe Ely, David Scalf and Cindy Pettis; along with former Lightning RV controller Rick Smyth, all seasoned veterans with a number of years' experience serving the RV aftermarket.
Brad Green, founder of Lightning RV, said "We are excited about this opportunity, as this was a natural fit, both culturally and how we go to market."
Michael Keller, son of Mike Keller and sales manager for Keller Marine and RV, will also be leading the Lightning sales force.
"We look forward to taking the strengths from each team to serve our vendors and the entire customer base better," he said. "With National Supply dissolving their relationship with Lightning RV, this is the perfect opportunity for two companies who hold their dealers in high esteem to join forces."