RV News
Keystone Again Partners With The Flipping Nomad on RV Build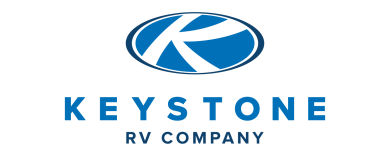 Keystone RV is once again partnering with The Flipping Nomad's Cortni Armstrong to design a one-of-a-kind Fuzion toy hauler. The two companies first came together in 2019 when they joined forces to create "The Ultimate Montana." Armstrong, who founded the RV customization company, reworked Montana's 3791RD floorplan to include a dazzling, black and gold design aesthetic, two ultrasonic water vapor fireplaces, claw-foot bath tub, pizza oven, and pull-out bar with a custom kegerator.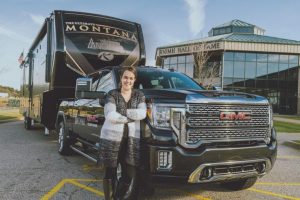 Armstrong and her business partner, Patti Baruxen, are part of a growing contingent of RV owners who work from the road, running their media company and traveling to work with renovation clients throughout the country. According to Keystone, as designers from its company, along with Armstrong, began to dream about what was next for their partnership, it became clear that outfitting a toy hauler as both a mobile shop and office was the ideal challenge.
"Too many RVers pass toy haulers by if they're not into power sports," Keystone said in its announcement. "The garage can be so many things like a kid's room, office, crafting room, or in my case, a mobile renovation shop. The flexibility it provides, combined with the experience of sitting on the patio when you're overlooking a scenic spot, makes haulers a super compelling way to RV."
Lippert, a manufacturer of RV components, will be joining for the Ultimate Fuzion build, lending its aftermarket expertise and expansive product catalog.
"We are excited to partner with The Flipping Nomad on their groundbreaking project, The Ultimate Fuzion. Cortni and Patti are two dynamic individuals in this industry, and it's been a pleasure getting to know them over the past year," said Nicole Sult, Lippert vice president of customer experience. "Together, we aim to create an inspirational and educational experience that merges innovation, functionality, and style. This collaboration is a great example of our shared commitment to delivering unique viewpoints on RV life, creating experiences that connect us to our surrounding communities, and redefine the possibilities of mobile living."
The promotion will also feature GMC's Sierra Heavy Duty Trucks, Volcon ePowersports and Dragonfly Energy.
The Ultimate Fuzion build begins this week on Keystone RV's campus in Goshen, Indiana. Fans can watch the build's progress by following The Flipping Nomad on Instagram as well as Keystone's Instagram, Facebook and other social media accounts. The rig's final reveal will be the first week of September.