RV News
Keystone Sees High Fifth Wheel Sales at Hershey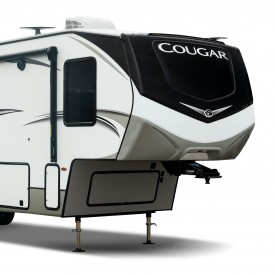 Keystone RV lead the market in both luxury and mid-priced fifth wheel sales last week at "America's Largest RV Show" in Hershey, Pa., according to the company.
"After last week's sales performance at Hershey, there is no question that our brands are positioned to have a really strong year end and 2020. It's an exciting time for the company," said President and CEO Jeff Runels.
Keystone leveraged the show to launch the redesigned Montana and Montana High Country lines.
"We suspected we had the tiger by the tail with the new design of both product lines, but we're always anxious to get new products in front of consumers," said Sam Lengrich, Montana assistant product manager. "The buyers at Hershey confirmed that Montana and Montana High Country are on the right track. The results we saw were extremely gratifying."
Keystone's Sprinter brand saw a massive sales increase at Hershey, doubling last year's record sales to lead the field in mid-priced towables.
"We have been pushing Sprinter, taking risks that other brands are unable or unwilling to do – making changes to industry standard floorplans, moving to different materials, adding unexpected features like pull-out pet bowls, beds and leash holders," said Product Manager Jonathan Gust. "Intuitively, we knew customers would respond, and now we have proof."
Keystone is reporting that the Cougar also performed exceptionally well. This brand has also seen a refresh with a move to white high-gloss laminated sidewalls and debuting their "Off-The-Grid Solar Camping Package."
Rounding out Keystone's success were performances other brands who introduced all-new products, including  Alpine and Avalanche, who both outsold last year's numbers, Fuzion, who sold more units than any other brand in their display, and Raptor, who's new 429 side-patio floorplan was the talk of the show.
All of Keystone's products will be on display next week at Thor Industries' 2019 Dealer Open House.