RV News
Lance Announces 2018 POP Program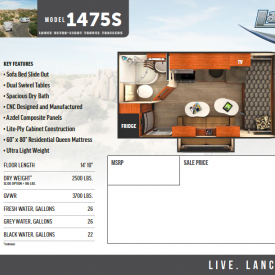 Lance recently announced that it will enhance its annual point of purchase (POP) marketing materials program, making it available at no charge to all dealers.
"We want to celebrate the success we have been sharing with our dealers while at the same time not lift our foot off the accelerator," said Bob Rogers, marketing director at Lance. "We think these materials add value to the experience of purchasing a Lance and hope that by providing them we are also helping the average sales person tell the story of how a prospective customer benefits from joining the Lance family."
The kits include items installed at the factory, as well as shipped to dealer locations:
Floorplan poster, which offers a 3-D view of all Lance models
Design and construction poster, which highlights the manufacturing processes and materials used by Lance
"Why Buy Dinette" poster
Unit ID vinyl clings, which serve as sale signs on exterior of units
Four seasons hang tag that outlines Lance's popular all-weather package
Showroom/sales office poster with lifestyle images and top features
Each dealer partner will receive the 2018 POP Kit at no charge with additional pieces available for purchase. Kits will start shipping next week for arrival to all dealers.