RV News
Last Call for Hall of Fame Dinner Reservations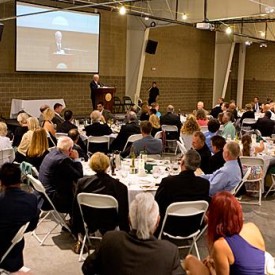 The RV/MH Hall of Fame's Annual Induction Dinner celebrating the class of 2018 is a month away, and it is taking final reservations for the Induction Dinner and Golf Classic, according to Darryl Searer, president, RV/MH Heritage Foundation.
"We are on track to break the all-time attendance record for our induction dinner, so I urge anyone planning to attend to register now to insure quality seating for the event," said Searer.
The induction ceremony will be held on Aug. 6 at the Hall of Fame's Northern Indiana Event Center in Elkhart, Ind. That's also the day of the Hall of Fame's Annual Golf Classic Fundraiser, hosted by Christiana Creek Golf Course in Elkhart.
The 2018 Induction Dinner celebration begins at 5:30 p.m. with a cash bar cocktail party, followed by the dinner and induction ceremonies at 6:30 p.m.
This year's class includes outstanding five members of the RV industry and six from the manufactured housing industry.
The RV industry inductees include: Derald Bontrager, Jayco Corp.; Roger Faulkner, General Coach Canada; Gregg Fore, Dicor Corp.; Rebecca (Becky) Lenington, Pennsylvania RV and Camping Association; Daniel R. Pearson, Pleasureland RV.
On the manufactured housing side, the inductees include: Michael A. Cirillo, Star Management: Darrel Cohron and Harrel Cohron (deceased), Cohron's Manufactured Homes; John Evans, California Manufactured Housing Institute (CMHI); Gub Mix, Idaho, Utah, Nevada and Arizona State MH Associations; Bill Wilson, Cherry Hill Homes.
"This event is truly a major industry affair," said Searer. "It not only honors the inductees who have attained a major milestone in the lives and careers; it's also an opportunity to network with industry leaders who normally attend the event."