RV News
Lazydays Employee Foundation Gives Back
The Lazydays Employee Foundation helps at-risk youth through the generosity of Lazydays' employees and supporters, and it recently performed a couple of philanthropic acts of note.
In the Florida community called The Villages, about 80 miles from the company headquarters in Tampa, the foundation donated Chromebook computers to a community-based after-school program in Wildwood for high-risk adolescent girls.
You can read more on that from this story in Villages-News.com.
Also, the Lazydays Employee Foundation recently facilitated the installation of an awning for the Tampa Metropolitan Area YMCA's "Veggie Van."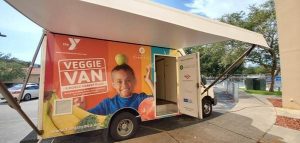 The awning was donated and installed by Lazydays RV. The Veggie Van brings fresh produce to kids, families and seniors who live in communities where nutritious fruits and vegetables are not readily available. The awning will provide shelter from the rain and much needed shade in the hot Florida sun.
The Lazydays Employee Foundation has contributed more than $1M to make many historic changes in the Tampa Bay community. One of the major initiatives it likes to point to is the Lazydays House at A Kid's Place, an emergency shelter for foster children recently removed from their homes due to abuse or neglect.
The Foundation also funds the Lazydays Center for Youth Development, which provides unaccompanied, homeless youth with the resources needed to break the cycle of homelessness. Plus, it has partnered with the University of South Florida's College of Health as a title sponsor of the Ybor Youth Clinic. According to Lazydays, this medical facility is the first of its kind in the Southeast, designed specifically to meet the unique needs of homeless and street youth.
You can read more about the Foundation on its website here.