RV News
LCI Debuts Augmented Reality Game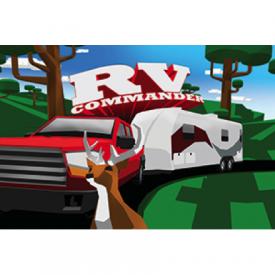 Lippert Components recently debuted its new in-app, augmented reality game RV Commander. The game, which operates through the RV Open Road mobile app, uses an anchor image to project a racetrack on which gamers navigate a tow vehicle and travel trailer using the patented Sway Command tow control technology to avoid obstacles such as dangerous crosswinds, fallen trees and deer.
To play, users must download the RV Open Road app on their iOS or Android smartphone or tablet, and use their device's camera to scan the anchor image located on the back cover of RV Open Road magazine, volume 6. Once the user scans the game's anchor image, an augmented reality racetrack appears, allowing users to virtually drive around a racetrack. The sixth volume of RV Open Road magazine is now available at Lippert Gold Circle RV Dealerships across the country.
To find an LCI Gold Circle Dealer, visit www.lci1.com/dealer-locator.
The app was developed by LCI and is the mobile companion to their newly redesigned RV lifestyle blog and magazine, RV Open Road.
The RV Open Road mobile app features hundreds of articles and blog posts. The app's articles, blogs and photographic content are sorted into helpful categories like RV, Camping, DIY, Tech, How To, Blogger Love and more.
Users can "favorite" articles by tapping the heart icon next to each article to enhance and personalize their Recommended content.
RV Open Road first launched in 2014 as a top RV industry lifestyle publication. The magazine, now into the seventh volume, has been distributed nationwide and features a variety of content from RV bloggers, RV industry experts such as the RV Doctor Gary Bunzer, detailed product upgrade information as well as technology, destination and how-to content.