News
LCI Introduces Pop-Up Roof for Class-B Vans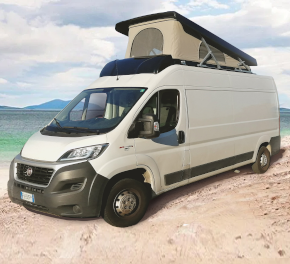 LCI introduces the Vela
Elkhart, Ind.-based Lippert Components Inc. has debuted its new "Vela," a pop-up roof system for Class B vans.
Lippert Components said it has been following the growth trend of the campervan market in Europe and the Class B market in North America very closely. LCI has already developed several products for this type of vehicle, including some slide-out applications that provide more living space when required. Now, the concept of "space on demand" also extends upwards with the introduction of its Vela pop-up roof mechanism.
"It was 2017 when we started to focus the idea of entering the market of elevating roofs," said Michele Checcucci, CEO of LCI RV Europe, based in San Casiano, Italy. "At the time, there were only two producers and the segment suggested there was room for strong growth, which subsequently has happened. To enter this market, you need to have an innovative product, so we took our time designing and engineering the best product possible, and now we are ready to introduce the Vela pop-up roof."
Available this September, the Vela – developed and produced in Europe – is sturdy and light, weighing 20–30 percent less than comparable fiberglass products, the company said. It provides a real extra bedroom for campervans and Class B RVs, with a double bed measuring roughly 200 x 130 centimeters, or 79 x 51 inches. The Vela incorporates new manufacturing techniques such as a patent pending solution for channeling hot or cold air as well as utilizing thermoformed "twin sheet" technology instead of fiberglass, offering the advantage of being easier to produce and saving on the total product weight.
"The objective all along was to design a product that was not just a simple extension of the campervan, but a real, livable bedroom with perimeter lights, reading lights, sockets for charging smartphones and air vents," Checcucci said. "I believe, through much testing and patience, we have arrived at the most innovative product in a very fast-growing market."