RV News
Let's Go Aero! Releases 'Moon Unit' Shelter Attachment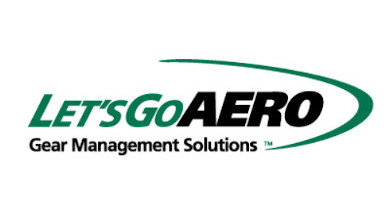 Let's Go Aero has announced the wide release of its Moon Unit, an all-in-one shelter system for both vehicle tailgate and stand-alone use, delivering 80 square feet of living and gear storage space. The Moon Unit made its debut at the Mountain West Overland Expo in September 2021, and proved a favored gathering place for attendees looking to get out of the sun and dusty wind, according to the company.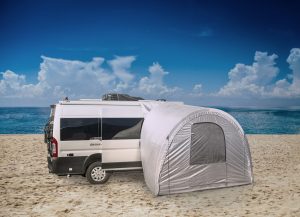 The Moon Unit is a 10-foot-wide, 8-foot-long, 88-inches-high side room shelter designed for the add-on living space needed for an outdoor lifestyle and life on the road. Two models are offered for vehicle connectivity of varying heights, the RV Van Life and the Overlanding Editions. Between them they fit on nearly all vehicles, including large SUVs, pickups, trucks with toppers, small camping trailers including large tear drops, truck campers, Sprinter RVs and other RVs of similar doorway dimension.
A zip-on tailgate connector with a 6-foot diameter stretch, with straps and buckles, comes with the Moon Unit Overland Edition for both vehicle hatch and side doorways of passenger vans, tear drops, and similar sized vehicles. For Sprinter RVs and other RVs with side doors from 88 to 104 inches tall, a connector with fitted fly panel and long adjustable straps secure the shelter to RV surfaces including over roof attachment. A clip-on doorway with 15 neodymium magnets provides an instantly sealed van doorway connection, along with clipped straps for additional secured attachment.
The Moon Unit's modular design is highly adaptive for changing climate conditions and living logistics, the company said. Three interchangeable zip-on panels and modular floor provide full enclosure both on and off the vehicle, allowing for use as a vehicle side room, a sun shade canopy, and a stand-alone tent and storage shelter while away from the campsite. The situational uses span far and beyond, to include for pet containment, as a car port awning, a mobile shelter for tradeshows, festivals, and hobbyists seeking protection from elements.
Moon Units began shipping this month, and those interested can also order at the company's website here.