RV News
Lippert Leadership Partners With Detroit's Life Remodeled

In collaboration with the Detroit-based nonprofit Life Remodeled, Lippert said it will have a chance to extend its community outreach efforts beyond its homebase of Elkhart County, Indiana, leaving a lasting legacy of positive change.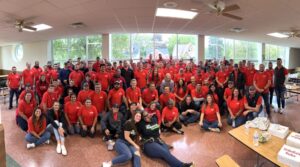 On Sept. 8, members of Lippert's Elkhart County Leadership team joined forces with team members from the company's Sterling Heights, Michigan, location to support Life Remodeled, a nonprofit organization dedicated to community revitalization and making a positive impact in underserved neighborhoods. Together, 110 Lippert volunteers actively contributed to Life Remodeled's mission of transforming vacant properties into vibrant hubs of opportunity for entire communities. They supported this vision by helping demolish three stories of classrooms in a recently purchased school building, ripping out carpets, removing wall hangings and ultimately filling more than four dumpsters with discarded items. The building is slated to become the nonprofit's second "Opportunity Hub", furthering their commitment to filling these revitalized spaces with the best and brightest nonprofit organizations, ultimately creating comprehensive support systems to help families thrive. The Lippert team's dedication exemplified its commitment to fostering positive change and making a lasting impact in underserved neighborhoods.
"At Lippert, we are committed to investing in the communities where our team members live, work and play. This trip allowed us to dive deeper by taking service on the road and meeting up with Lippert team members in Sterling Heights to accomplish a truly meaningful project together," said Michilah Grimes, director of corporate and community impact at Lippert. "Team members from both locations serving together outside of northern Indiana shows Lippert's commitment to creating impact in every Lippert community, another element that made this project with Life Remodeled so special. Between the mission of the organization and the comradery between team members, this was one of the most meaningful events we have ever done. Everyone put away distractions to be available to grow as one team and show what's possible when we are fully present."
"Life Remodeled has just begun the process of repurposing a second vacant school building, and Lippert was the very first team to volunteer here," said Chris Lambert, CEO of Life Remodeled. "Their valiant efforts saved us around $10,000 in demo costs, and half their team drove 200 miles to make that happen. Amazing!"
For President and CEO Jason Lippert, it was key for Lippert Leadership to participate in this event, as their active involvement served as a powerful example to the entire organization. It underscored his vision of Making Business a Force for Good in the World and reflected his dedication to corporate citizenship and community engagement.