RV News
Lippert's Second 'Getaway' for Customers Draws Hundreds

Lippert recently held its second annual consumer event, the "Lippert Getaway," during the last week of October in Pine Mountain, Georgia. The Getaway consisted of five full days of learning, listening and fellowship amongst over 390 attendees as well as Lippert team members from multiple departments including Customer Experience, the Technical Institute, Plant 82 Service, Plant 68, the Lippert Care Center, Marketing, Executive Leadership, Project Management, Furrion and Corporate and Community Impact (seRV).
In total, 394 Lippert Scouts and 71 Lippert team members attended the event, occupying 147 campsites at Pine Mountain RV Resort and representing 36 states and 23 different RV makes. As a consumer-focus group, the Lippert Scouts was launched in 2020 with the goal of bringing 50-100 "super-users" together to provide product feedback and spread the word about all the great things that Lippert does for the RV community. Now, the group has 17,000 members dedicated to bettering the RV lifestyle through sharing knowledge and experiences, providing product feedback direct to Lippert and taking part in exclusive opportunities that drive the RV industry forward.
At the Getaway, Lippert conducted 16 seminars revolving around technical training and the RV lifestyle. Attendees learned tips and tricks on all things RVing from technical troubleshooting on common RV issues, to route planning and RV interior design. Lippert invited several of its brand ambassadors, influencers and partners, who also gave insightful seminars on the RV lifestyle and RV maintenance. These special guests included b.e.happe, Chasing the Cashes, Enjoy The Journey, Finding Our Someday, Less Junk More Journey, Matt's RV Reviews, Restless Russells, Paws For Love, The Campoholics, Totalmente Perdidos and The Flipping Nomad.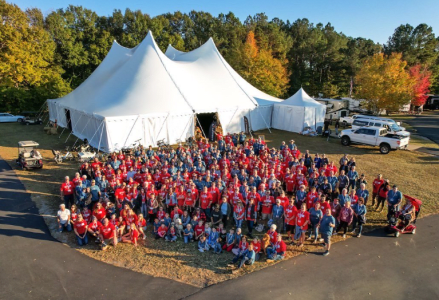 Lippert set up a new space at the Getaway this year called the Innovation Tent. Across three days, event attendees were able to meet with several teams from across the company to provide insight on product design, service and support, and lifestyle experiences. Over 1,000 points of feedback were collected in the Innovation Tent, helping Lippert to better understand consumer needs.
During the Getaway, Lippert provided attendees an opportunity to schedule service as well as install upgrades to their rig while they enjoyed the event. As a result, Lippert served 54 customers and completed 67 service tickets.
Lippert Cares also launched a new platform called seRV with Purpose at this year's Getaway. Under the new program, a total of 250 volunteers packed 1,200 bags for the Boys & Girls Clubs of America and cleaned up the trails at F.D. Roosevelt State Park.
During the event, Lippert announced the date and location of its 2023 Getaway, which was met with a standing ovation. It will be held on Sept. 19-23, 2023, at Redrock RV Park, an Open Road Resorts Property, in Island Park, Idaho.