News
Make-A-Wish Colorado Grants Three-Year-Old's Camping Wish
Make-A-Wish Colorado teamed up with Camping World of Denver recently to grant the wish of three-year-old Isaac, who has end-stage renal disease, whose wish was to go camping with his family.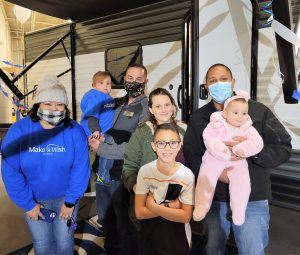 Camping World of Denver set up a makeshift "campsite" and present the camper to the family. The family will also be provided with a gift card for an onsite shopping experience to pick up extras to make the camper even more comfortable.
Founded as one of the first Make-A-Wish chapters in 1983, Make-A-Wish Colorado has granted more than 5,785 wishes to children across the state of Colorado. Matthew Urland, general manager of Camping World of Denver, has been involved in camper wish reveals for 25 Colorado children battling critical illnesses during the past 18 months.