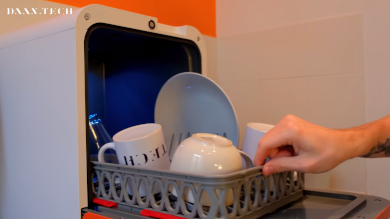 French company Daan Technologies has introduced the U.S. to Bob, the company's mini dishwasher.
The ultra-compact mini dishwasher, designed as a solution for urban kitchens and small spaces – such as RVs – to provide an easy and convenient way to wash dishes without a traditional dishwasher. As small as a microwave, Bob easily fits on the kitchen countertop next to the sink and can operate without a water supply, thanks to its integrated water tank. In addition, Bob can wash the daily dishes for a household of two in just 20 minutes with an innovative design using five times less water than typical hand washing, the company said.
"When creating Bob, we wanted to create a solution for any home, apartment, RV or van to have a compact and efficient way to wash dishes without sacrificing space," said Damian Py, president & CEO of Daan Technologies. "Through our presence at The Inspired Home Show and current Kickstarter campaign, we are excited to share how Bob can benefit any 'home' space and encourage consumers to rethink how they wash dishes."
Bob is currently available in two different models; Bob Premium, equipped with a UV-C sanitation option that kills 99 percent of bacteria and viruses in a waterless cycle, and choice of 12 different door colors and two different body colors, and Bob Minimalist, offering two color door options and simplified analog display. The Bob Premium and Bob Minimalist retail for $449.00 and $349.00, respectively.