RV News
Meet the New Regency Xalta Ranger
European magazine Motor1 is always on the lookout for the new and unusual, and while there's nothing new about Class Bs, the magazine did find one that offers something unusual for that class.
Class B RVs use a commercial van chassis to create a compact camping rig, but their small physical footprint means that the interior layout has to use space efficiently. The new Regency Xalta Ranger RB features a floor plan that makes room for a huge bathroom in comparison to other vehicles in this segment.
On the outside, the Xalta Ranger RB looks like a Mercedes-Benz Sprinter other than the power awning on the passenger side. Regency Recreation offers it in 144-inch and 170-inch wheelbase lengths.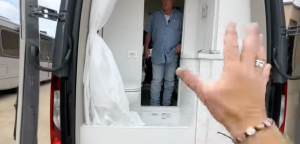 The interior is where builders differentiate their campers from competitors' offerings. This video offers a tour of the 170-inch version. Compared to the 144-inch variant, this one offers two captain's chairs in the second row.
Behind the seating area, there's a split gallery kitchen. A sink, microwave, and storage spot for a cooktop are on one side. The other has a counter, a refrigerator, and the stereo controls.
The TV is also in this area. A bracket lets campers swing it into the preferred space. There's even a mount for attaching the television to the door for enjoying shows outside.
A couch is along each wall. They can extend to create a massive mattress between a queen and king in size.
Storage space lines each side of the walls. There are also drawers beneath the couches.
The really cool feature is at the back. The wet bathroom has a large shower for this type of RV.
Click here to read the whole article by Chris Bruce.