News
Meeting Slots Open for Aftermarket Conference
This article is from our older website archives. Some content may not be formatted or attributed properly. Please
Contact Us
if you feel it needs to be corrected. Thank you.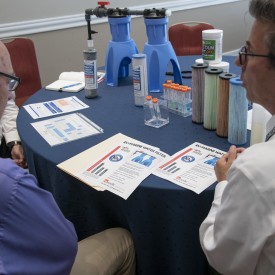 The meetings portal has opened for the annual RV Aftermarket Executive Conference, a three-day event where suppliers and distributors in the RV industry meet to develop strategies for expanding their business in the coming year.
The conference, open to all RV Industry Association members, allows one-on-one "appointment sessions" between RV suppliers and distributors. The event will be held at the Host Hotel: Embassy Suites Downtown Convention Center at 1420 Stout St., Denver, CO 80202.
Below is a detailed schedule for the Aftermarket Executive Conference. To register, click here.
Monday, Aug. 12
7 a.m. – 2 p.m.:  Golf Tournament (Colorado National Golf Club, Erie, CO)
10:30 a.m. – 2 p.m.:  Coors Brewery Tour and Explore Golden, CO
12 p.m. – 6 p.m.:  Registration and Information Open
4 p.m. – 5 p.m.:  Aftermarket Committee Meeting
5:30 p.m. – 7 p.m.:  First Time Attendee/Welcome Reception
Tuesday, Aug. 13
7 a.m. – 5 p.m.:  Registration and Information Open
7:30 a.m. – 8:45am:  Breakfast
8:20 a.m. – 11:30am:  Meetings
11:45 a.m. – 1:15 p.m.:  Lunch / RV Industry Update
1:40 p.m. – 5:30 p.m.:  Meeting Appointments
6 p.m.:  Explore Denver on Own
Wednesday, Aug. 14
7 a.m. – 5 p.m.:  Registration and Information Open
7:30 a.m. – 8:45am:  Breakfast
8:20 a.m. – 11:30am:  Meetings
11:45 a.m. – 1:15 p.m.:  Lunch / Aftermarket Research
1:40 p.m. – 5:30 p.m.:  Meeting Appointments
6 p.m.:  Explore Denver on Own
Thursday, Aug. 15
7 a.m. – 5 p.m.:  Registration and Information Open
7:30 a.m. – 8:45am:  Breakfast
8:20 a.m. – 11:30am:  Meetings
11:45 a.m. – 1:15 p.m.:  Lunch / RV Aftermarket Awards
1:40 p.m. – 5:30 p.m.:  Meeting Appointments
6 p.m. – 7:30 p.m.:  Closing Reception