News
Meyer Distributing Names Vendors of the Year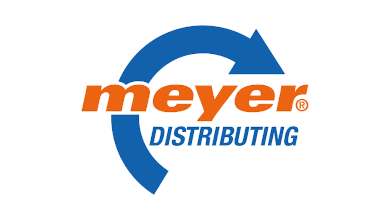 For the first time, Meyer Distributing has named GEN-Y Hitch its RV & Towing Vendor of the Year.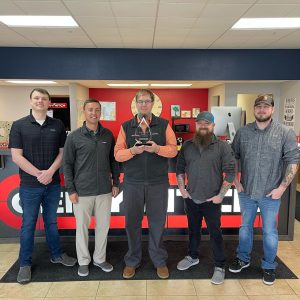 GEN-Y Hitch has been working with Meyer since 2019. With the launch of the EXECUTIVE – 5th Wheel-to-Gooseneck Coupler Pin Box, GEN-Y has raised its profile within the RV industry.
"We've become a more prevalent name in the RV industry," said Jason Helmuth, GEN-Y sales manager. "Working with Meyer Distributing has allowed us to expand our business even more across the U.S. and get in front of more customers in a timely manner.
"Our partnership with Meyer has helped us tremendously," he said. "Their team is easy to work with, passionate and hard working. It was an absolute honor to receive this award from the Meyer Team. The award is the result of how two companies like Meyer and GEN-Y can synergize and work together extremely well."
Seth Trueblood, RV & Towing category manager, said that he is "proud to have a partner like GEN-Y. They continue to show that there is still an extremely important element to 'Made in America' products and their commitment to excellent service is a value that Meyer can fully stand behind and are happy to be partnered with."
Meyer Distributing has named Highway Products, a leading high-end aluminum manufacturer, as a 2021 Vendor of the Year in the Truck Accessory and Equipment division.
"Meyer is excited to announce Highway Products as the winner for the 2021 Truck Equipment Vendor of the Year award," said Joel Terwiske, Commercial/Fleet category manager. "With Highway Products' continued innovation of new products, Meyer is excited to see our relationship grow in 2022."
According to Shayne Hill, chief revenue officer at Highway Products, "Highway Products is honored to receive the 2021 Truck Equipment Vendor of the Year award from Meyer Distributing. We value our partnership with Meyer at the highest level and are committed to keep building upon our relationship."
Fleece Performance is the leading manufacturer of aftermarket diesel performance products and was named Vendor of the Year in the Diesel Performance Category.
"Fleece has been an incredible partner with Meyer," said Ben Johnson, Diesel Performance category manager. "Fleece always watches the industry for what new part is going to fill a need and their new product data is always on point."
Upon receiving the award, Jeff Everett, Fleece's vice president of sales and marketing, said, "We are honored to have been selected by Meyer Distributing as Vendor of the Year. Meyer has been an exceptional and dedicated partner for nearly a decade, continuously investing in Fleece Performance products to support their growing and loyal customer base. On behalf of the entire Fleece Performance team, we want to thank Meyer Distributing for this award."
In the Tire & Wheel division, Scott Hohler, Tire & Wheel category manager, said he believes that "Method Race Wheels has been and continues to be a great partner. They bring a great product to market and continue to provide the best customer service in the industry."
Matt Harris, global sales director at Method, responded to the award by claiming they "are honored to be named Tire & Wheel Vendor of the Year by Meyer Distributing. Meyer works with many industry-leading brands and to be recognized as one of the best is truly humbling. We value the partnership we have with Meyer and remain committed to providing an excellent experience for our partners."
Fab Fours is a steel bumper and accessory manufacturer in the 4×4 & Off-Road division. They stand out from the rest through their dedication to pushing the boundaries of innovation and design in every product they produce, consistently meeting consumer demands, Meyer said.
Jamin Hochgesang, 4×4/Off-Road Category Manager, said that "working with Fab Fours is a true joy day in/day out." He said he "feels like they set the standard in the industry as a company." Upon receiving the award, Matt McShane, vice president of sales and marketing at Fab Fours, said, "We'd like to thank the team at Meyer for this award and all they do to make this a great partnership between our two companies. This is a tremendous honor for us. I couldn't be more proud of everyone at Fab Fours for all of their efforts. This award touches every division and department, and it takes a total team effort not only to be considered for this but to win it."
When it came to Meyer's Manufacturer Representative Agency of the Year award, one agency stood above the rest with their seasoned, professional sales staff and dedication to their manufacturers.
"We work with a lot of good rep agencies, but Considine Sales & Marketing set themselves apart this past year," says Kristin Kellams, new business development manager for Meyer Distributing. "Their number of dealer visits and lead generation is outstanding. Jim, Greg and the entire CSM team are always eager and motivated to make joint visits with the Meyer staff as well."
When asked for a comment on the award, Greg Bernheisel, a partner at CSM, reminisced, "It is an honor for the CSM team to receive the Meyer Rep of the Year award. It's hard to believe our journey together began over 30 years ago. Time flies when you're having fun! To be a small part of the growth at Meyer Distributing is humbling and has been a great blessing to me personally. I truly believe the best is yet to come!"