RV News
Meyer Mega Show Wraps Up on Optimistic Note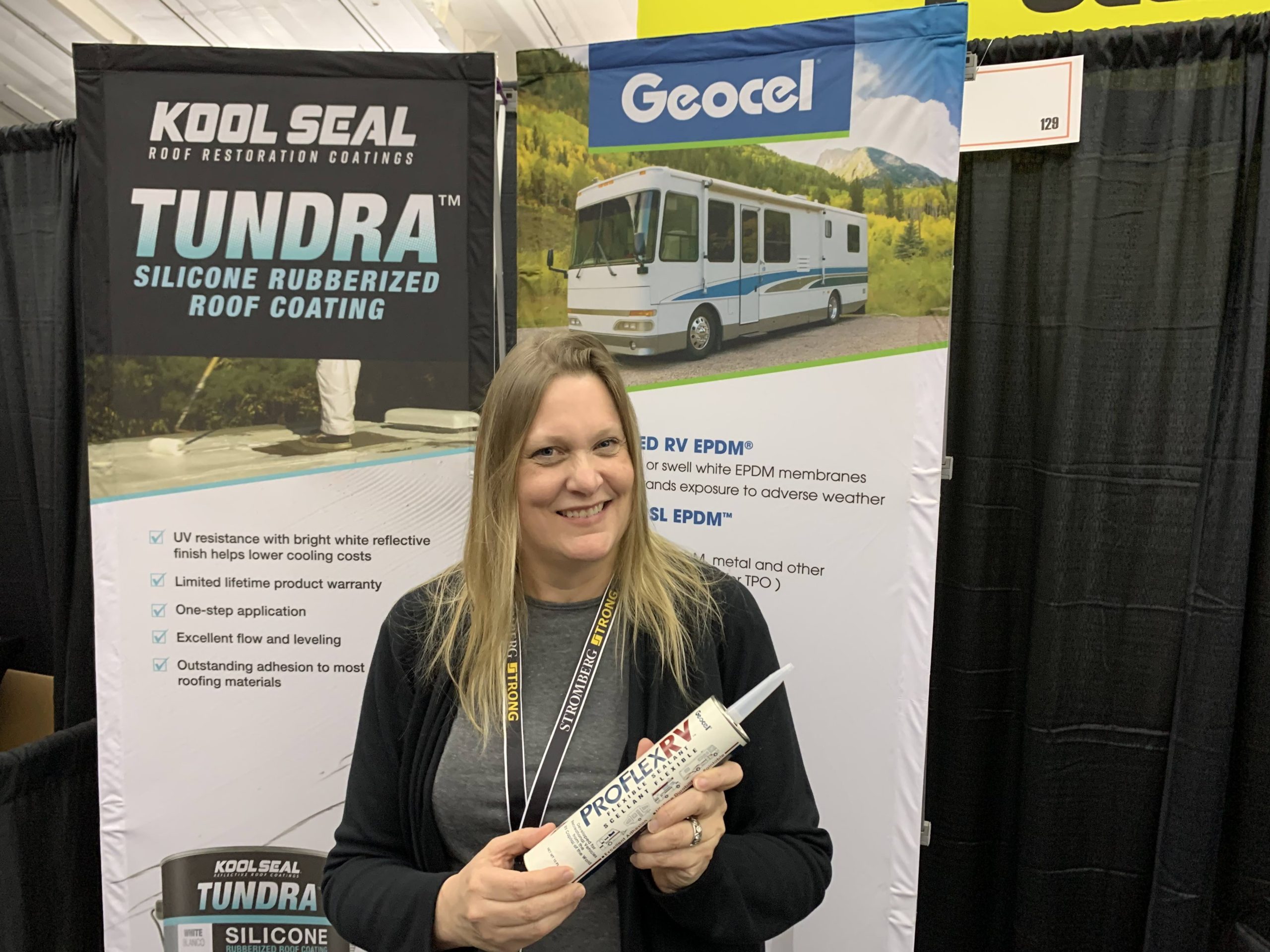 Georgiann Voissem of Inspired Rep Group holds the "goop" she touted at the show. She said it was the best-attended of any show this season.
Husband-and-wife Theron and Cynthia Gourley made the 200-mile trek from their home in Benton, Kentucky, to their first Meyer Mega Show this week in French Lick, Indiana, and accomplished what they came for.
The owners of Camp-A-Rama didn't come to fill their vehicle with the latest bells and whistles from the show; they already buy a lot of parts from many of the vendors at the show through Meyer. For them, it was more about experiencing what a show was like and putting faces to the names of many of the people they deal with via phone or email every day. That, and pick up some knowledge along the way, since they've only owned the dealership for four years.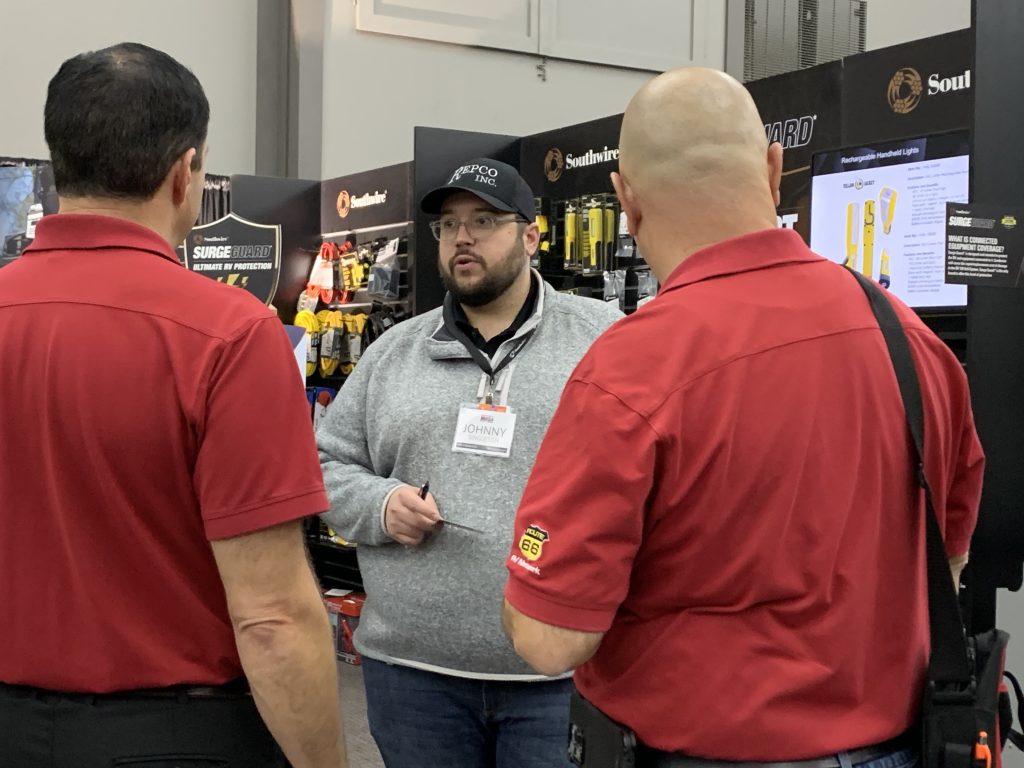 Tuesday, which was a day full of nearly two dozen seminars, checked off the second box, as they attended "at least six" seminars. And they did have another goal that the Meyer folks helped them out with: "We built a new showroom, and I was looking for someone to stock that and get it set up," Theron Gourley said.
Perhaps they weren't the only first-time attendees at the Meyer Distributing Show this week, as everyone seemed to report the same thing: attendance numbers like they had never seen.
"This has been the best show out of all the shows since last fall," said Georgiann Voissem, owner and founder of Inspired Rep Group, a manufacturers' rep group. "The traffic from the dealers is not what we had seen at other shows.
"There was concern about the industry because of things tightening up a little bit, and this show has softened some of those concerns," she said.
Given the record-setting pace of the past couple of years, it's only normal for the industry numbers to fall back down to pre-COVID-19 levels – but that's OK, Voissem said, if 2022 sales numbers are closer to 2019's than the prior year. 2019 was an "outstanding" year, she said.
Besides, she said, with all the new first-time buyers, that means not only have they been exposed to a brand-new lifestyle and way of vacationing and relaxing, but their families have, too. That means two generations of people who knew nothing about RVing before have now been exposed to the bug. She likes the odds of many of those people and their children sticking with it, despite other travel and vacation options.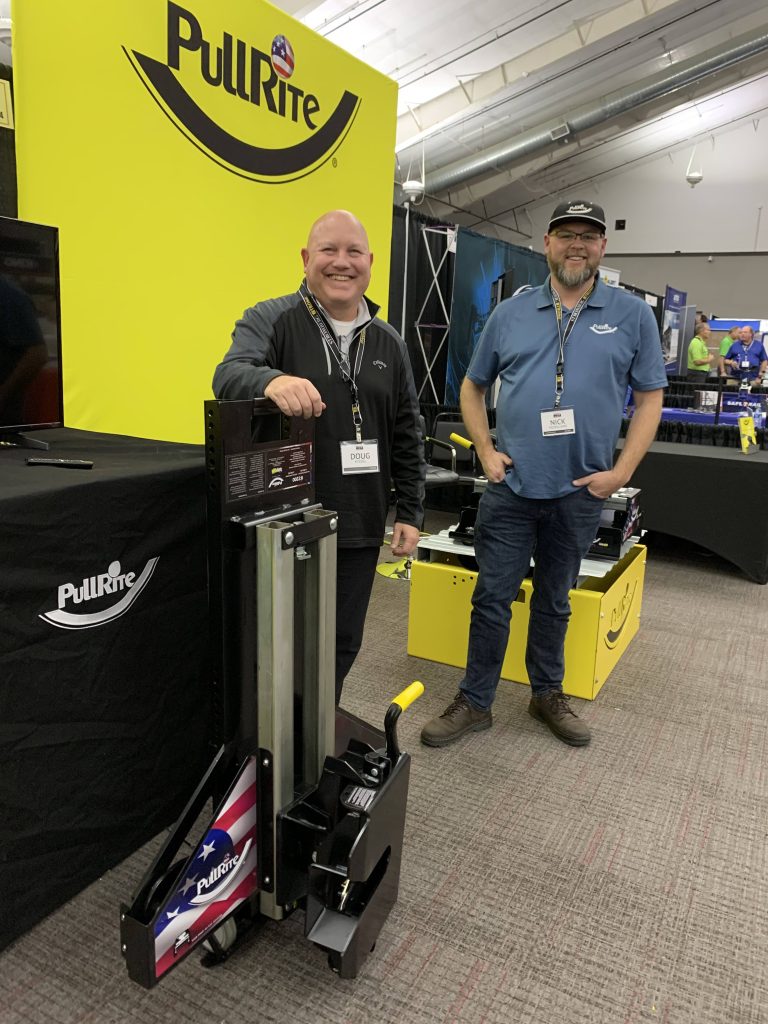 Voissem's optimism was shared by a company rep over at the PullRite booth. Though they had heard the talk Voissem had about the market tightening up a bit this year, PullRite's Doug Kissel said orders have been strong into the early part of this year, although not as "heavy" as years past.
"They're trying to get a pulse for the market this year," he said.
His fellow regional sales manager, Nick Moreland, agreed attendance had been strong this week, as it was for a show the company did last week in Cleveland.
"That show last week was really good," Moreland said. "There were lines of traffic getting into that place, and a lot of buyers."
This was the fifth year for the Meyer Mega Show, and its fourth at the historic French Lick Resort Casino. The other was held virtually in 2021 due to COVID-19.