RV News
Momentum Model Drives Record Sales for Grand Design RV
Grand Design announced it has exceeded 15,000 retail units sold of its Momentum fifth wheel toy haulers.
Since the product's launch in 2013, the Momentum fifth wheel has raised the bar and set new expectations in the luxury segment of the toy hauler market, according to the company. Driven by customer demand, the Momentum brand has extended its offering to include the Momentum, M-Class and G-Class fifth wheels and travel trailers.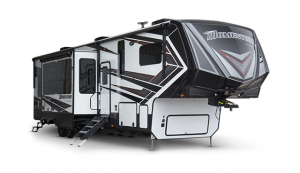 Recently, Statistical Surveys reported that Momentum Fifth Wheels surpassed the 15,000 milestone in retail registrations and are ranked the No. 1-selling toy hauler fifth wheel in North America. Moreover, the Momentum brand is ranked No. 1 in its class and continues to outpace competitors. This announcement marks the third monumental sales achievement Grand Design earned in the calendar year.
The company said the celebration, however, extends beyond the luxury toy hauler segment, because the Momentum Travel Trailer continues to grow in popularity, broadening the company's consumer base and reach.
"Our relentless pursuit of quality craftsmanship and our ability to quickly respond and adapt to consumer's needs has propelled this line to the top of its class," said Lance Lees, product manager for the Momentum brand. "Our motto in the production plant is, 'Quality is not an option, it's standard in everything we do.'"
"For example," added Lees, "when developing a newer fifth wheel model, the 395MS, we listened to our customer's feedback who wanted better-opposed seating, expanded kitchen areas with access to the bedroom and bathroom. As standard for all Grand Design brands, we invite our owners and enthusiasts to share opinions to drive change. Their input is pivotal to all brands' current success and future innovation."
Regarding the product's development and growth, Don Clark, president and CEO of Grand Design, added, "We wanted to expand the brand's appeal to include customers that don't necessarily have toys but value the flexibility to customize their space. We are truly humbled by the market's overwhelming response to the Momentum brand. Congratulation to Lance Lees and our entire Momentum team – their hard work and creativity are what we celebrate today."
The milestone was commemorated by a luncheon celebration with all plant members and management in attendance.