RV News
MORryde's Step Above Granted U.S. Patent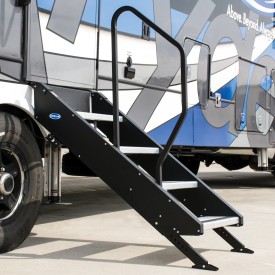 MORryde has been issued a U.S. patent for its Step Above entry step for towable RVs. Step Above is a lightweight step that stores in the doorway of the RV.
"We wanted the Step Above to be a high-quality, easy-to-use system that offered retail customers the most stable and secure footing," said Joe Carroll, MORryde product development manager. "We're excited that we seem to have hit the target. In a short period of time, we've seen Step Above being offered on towable RVs at all price points in the market."
Step Above is available in one, two, three, and four step applications with an optional handrail available for the three and four steps. It is designed to hold up to 500 pounds, and has extendable and adjustable legs, creating a more stable entry and exit on uneven terrain. It is available in both assisted and non-assisted versions.