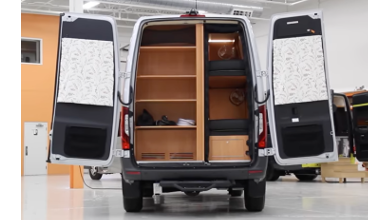 Image courtesy Motor 1/Advanced RV
Building an RV with a kitchen, full bath, and living space using an extended-length van is a challenge. But fitting the same features into a standard-size van? That effort requires another level of planning and creativity, not to mention some trial and error.
Yet the team at Advanced RV pulled it off at the request of existing clients who wanted to downsize from an extended-length 170-inch wheelbase RV. They chose a Mercedes-Benz Sprinter with a 144-inch standard wheelbase so they could camp and park in more sites than before. But while they wanted a smaller RV, they didn't want to sacrifice functionality. Meeting those needs required ARV to rearrange its standard configuration.
The RV is named Mies, after the architect Ludwig Mies van der Rohe, one of the pioneers of modernist architecture. The name is appropriate, reflecting the interior's modern/minimalist aesthetic, and because it required architectural skill to make everything fit. ARV started with sketches and digital software before moving on to cardboard mockups. Then they did walkthroughs with the clients to confirm everything before starting the build.
The biggest hurdle involved the bunk beds.
Click here to read the full report from Mark Webb at Motor 1.com. Click below to watch a video about the project.