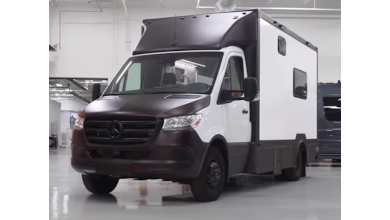 The B Box 2
Motor1.com is a part of the new Motorsport Network and covers vehicles of all types on a global scale.
As the company's name implies, Advanced RV aims to push the limits of what's possible in motorhomes, it said. Its latest creation is the B Box 2 with some neat features like a power-operated table and a skylight.
Based on a Mercedes-Benz Sprinter van, the B Box 2 measures 22 feet 11 inches long and has interior standing space of 6 feet 8 inches. There are 9.5 inches of ground clearance, which is enough to go slightly off the beaten path.
Advanced RV uses the Sprinter chassis cab and installs the company's own custom living box that retains the exterior dimensions of a Sprinter conversion van but has an interior footprint that is 9 inches wider.
Click here to read the full story from Chris Bruce in Motor1.com. Or see the video below.