RV News
nuCamp RV's Cirrus 920 Wins 'Truck Camper of the Year'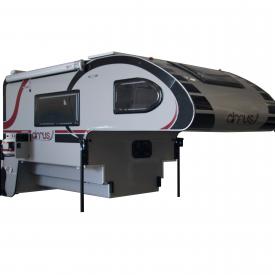 Readers of Truck Camper Magazine have selected nüCamp RV's 2018 Cirrus 920 truck camper as the best truck camper of 2017.
The Cirrus 920 truck camper is a hard-side, non-slide, luxury truck camper designed specifically for long-bed trucks. The Cirrus 920 features the same systems and materials used in nüCamp RV's teardrop camper trailers.
With European interior styling, the Cirrus 920 uses systems and materials such as the Alde hydronic heating system, Infinity flooring, and the Froli sleep system. The Cirrus 920 also has built-in bathroom storage, an ambient lit stainless-steel mosaic tile kitchen backsplash, a slide-out pantry, and a 28-inch TV in the dinette.
Customers can also opt for a slide-in oven, generator and a second TV in the cabover.
"We are honored to be recognized by Truck Camper Magazine and its readers," said Scott Hubble, CEO of nüCamp RV. "Our truck campers, in particular the Cirrus 920, are gaining a reputation as the most well-appointed luxury campers on the market."
nüCamp RV began manufacturing truck campers in 2016 with the Cirrus 820. The Cirrus 920, introduced in 2017, is the newest model of truck camper from nüCamp RV.
Winners of Truck Camper Magazine "Readers' Choice Awards" are selected by readers of the magazine and visitors to the magazine's website. Readers vote for the best truck camper, truck camper gear and innovation annually.