News
New Chairman Installed, Awards Presented at RVDA Annual Meeting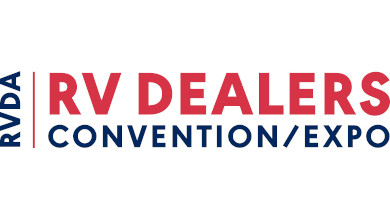 A new RVDA chairman, prestigious awards and an honorable recognition of a retiring association leader were just a few major highlights from the Annual Meeting at the RVDA Convention/Expo on Wednesday.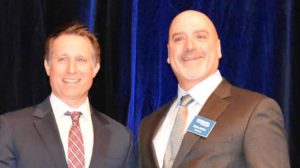 This year's meeting spotlighted immediate past chairman Chris Andro, from Hemlock Hill RV Sales in Southington, Conn., marking the end of his tenure by passing the gavel to 2021 association Chairman Mike Pearo.
"Chris is an enthusiastic leader and has done a fantastic job of keeping everyone on the board and staff following in the same direction," RVDA President Phil Ingrassia said of Andro.
From Hilltop Camper and RV located in Fridley, Minn., new chairman Pearo is a third-generation RV dealership owner. His company began business in 1951 under his grandfather.
Moving forward under his new role, Pearo noted a need to ensure infrastructure to service and house the industry's growing customer base, along with continuing to work on industry partnerships and communication among dealers, suppliers and consumers.
"Although we've made progress, we need to keep the foot on the gas and continue to work on improving our industry and the customer experience," Pearo said during his acceptance speech.
The Annual Meeting spotlighted two winners of RVDA's highest honor, the James. B Summers (JBS) award, because last year's show was held virtually due to COVID-19.
The first recipient – Larry Troutt of Topper's Camping Center in Waller, Texas – was not able to attend 2021's event but was given the award virtually among family. Troutt was RVDA chairman in 2008-09.
The second JBS award was accepted by Mick Ferkey of Greeneway RV in Wisconsin Rapids, Wis., a current member of the board of delegates and Mike Molino RV Learning Center's Board of Directors.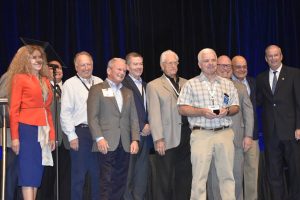 Four individuals received this year's Chairman's Service Award, chosen by outgoing chairman Andro. The recipients were: Earl Stoltzfus of Stoltzfus RV & Marine, Bill Koster of Protective Asset Protection, Nathan Hart of Walnut Ridge Family RV Sales, and Mike Pearo.
The new RVDA officer nominees for 2021-2022 were announced, headed by Chairman Mike Pearo. Among the volunteer leaders is first vice chair: Nathan Hart; second vice chair: Ryan Horsey; treasurer: Bob Cox; and secretary: John Ferrando.
The association's board of delegates also appointed two new members to RVDA's Board of Directors: Brad Bacon and Jim Colton.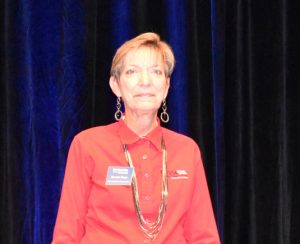 Among the awards and passing of the gavel, RVDA made a special recognition for its vice president of administration, Ronnie Hepp, who (literally) dropped the mic after the announcement of her retirement in March 2022. Hepp began her career with the association in 1995.
Other happenings on Wednesday evening included the Young RV Executives reception, where Emma Falbo – an interim service manager at Lazydays of Milwaukee (formerly Burlington RV Superstore) – was announced as the recipient of the Duane Spader Leadership Development Scholarship for the 2022-2023 program year. The scholarship offers full tuition valued at $14,875 and pays for travel.