News
Newmar Event Features Top Dealer Awards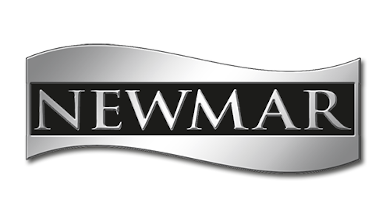 On Tuesday evening, Newmar's 2022 dealer event at the Gaylord Hotel and Convention Center in Orlando, Fla., included dinner, a presentation of awards and entertainment by The Passing Zone, an America's Got Talent act.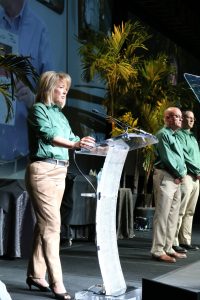 After the meal, Director of Sales Michelle Kemp announced Newmar's 2021 Top 10 Dealer Awards. Winners included:
Bish RV
Meridian, Ida. / Eugene, Ore. / Roca, Neb.
General RV
Wixom, Mich. / North Canton, Ohio
Ashland, Va. / Huntley, Ill. / Draper, Utah
Independence RV Sales
Winter Garden, Fla.
Lazy Days RV
Mesa, Ariz. / Sturtevant, Wisc.
Woodland, Wash. / Portland, Ore.
Midway Motor Homes
Grand Rapids, Mich.
National Indoor RV Centers
Lewisville, Texas / Lawrenceville, Ga.
Las Vegas, Nev. / Nashville, Tenn.
North Trail RV Center
Ft. Myers, Fla.
RV Retailer
Albany, N.Y. / W. Seneca, N.Y.
Dover, Fla. / Des Moines, Iowa
Concord, N.C. / Duncan, S.C.
San Diego, Calif. / Palm Desert, Calif. / Liberty Lake, Wash.
Tom Lindstrom RV
Moorpark, Calif.
Transwest Truck Trailer & RV
Frederick, Colo. / Grand Junction, Colo.
Fountain, Colo. / Belton, Mo.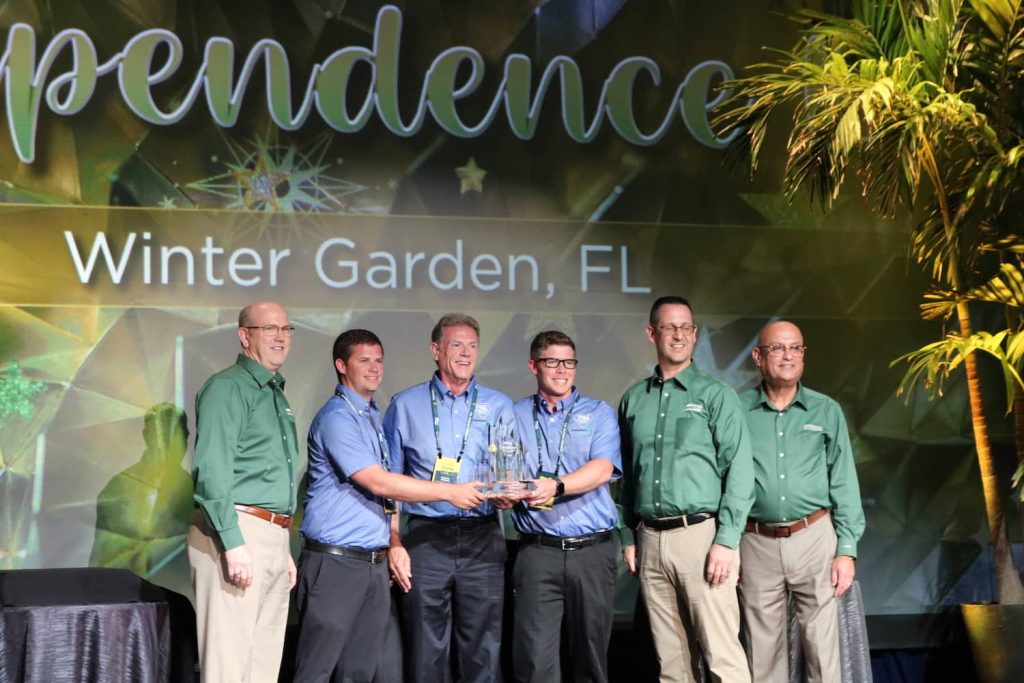 In addition, Newmar presented its "Not Just a Number" award to North Trail RV, which was received by the dealership's Joe Jackson.
Matt Utley, vice president of service operations, presented outstanding customer service awards to 19 Newmar dealer service locations. Utley gave awards at the gold, platinum and diamond levels. The list of winners is below.
After the service awards, Newmar provided entertainment for all attendees in the form of comedy and juggling act, The Passing Zone. The Passing Zone, consisting of Jon Wee and Owen Morse, juggled the familiar bowling pins, balls and rings. Adding in comedy along the way, they also included some unusual elements including, hatchets, sickles, and even chainsaws. Then they sought out a volunteer to help them with some of the more dangerous items.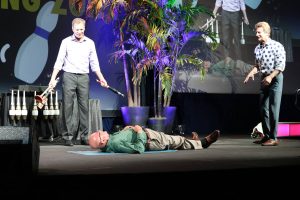 That volunteer, Newmar Vice President of Sales John Sammut, watched the act juggle a toilet plunger, a rat trap and a stun gun as Sammut laid on the ground below. One of the duo frog-leaped the other catching all three items in turn from his partner before landing over on the other side of Sammut.
A second volunteer, Joe Jackson, one of Newmar's dealers, had to stay still as they had Jackson spin plates while tossing sickles in front of and behind him. The theme of The Passing Zone's night was teamwork, which they correlated to Newmar's partnership with their dealers.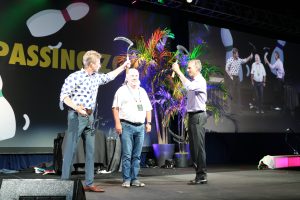 Gold Service Award Winners (12)
Bish's RV Eugene, Ore.
Campers Inn, Clarksville, Ind.
Crain RV, Benton, Ark.
DeMartini RV Sales, Grass Valley, Calif.
Dylan's RV Center, Sewell, N.J.
Mount Comfort RV, Greenfield, Ind.
NIRVC, Lewisville, Texas
RCD Sales Etna, Ohio
RV One Superstores, Concord, N.C.
Transwest, Fountain, Colo.
VR St-Cyr, Quebec, Canada
Wade's RV Supercenter, Goldsby, Okla.
Platinum Service Award Winners (4)
Ansley RV, Duncansville, Penn.
Coachlight RV, Carthage, Mo.
Freedom RV, Tucson, Ariz.
North Trail RV, Fort Myers, Fla.
Diamond Service Award Winners (3)
Independence RV, Winter Garden, Fla.
Midway Motorhomes, Grand Rapids, Mich.
Steinberg Motorcoach, Garfield, Minn.