RV News
Newmar Takes Dealer Show Online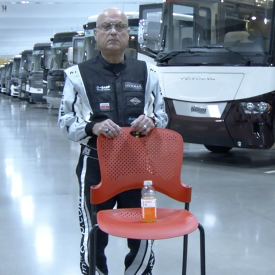 It wasn't quite the Indianapolis Speedway, and Vice President of Sales and Marketing John Sammut came tooling onto the scene in a golf cart rather than a race car, but Newmar Corp. took advantage of technology and a cooped-up audience to present an abbreviated version of what would have been its annual dealer show Monday morning in webinar fashion.
Sammut and President Matt Miller trumpeted the company's vision for the future now that it is owned by Winnebago, and also unveiled the impressive lineup of new offerings that has become expected of the luxury motorhome manufacturer.
The event was originally scheduled to be held at the Indianapolis Convention Center but was cancelled due to the coronavirus. The virtual event was instead filmed at the company's Nappanee, Ind., service center.
"It is our goal that this virtual experience highlights the changes and enhancements for our 13 brands and gives you comfort that Newmar views business as usual for our dealer network," Miller said.
He also elaborated on his decision to sell the business to Winnebago last year. He said it had become apparent that there would not be a third generation of Millers to lead the company, and that the skills needed to run a multi-million-dollar company were different from those needed to run a billion-dollar company, which Newmar soon could grow to be.
But that the family still wanted to join forces with another company that shared its values, goals and desire to lead the industry in quality and customer service, according to Miller.
"Eventually we came to the conclusion that Winnebago was our best choice," he said. "We expect to elevate the customer experience even more that we would have on our own."
Sammut shared some details from Statistical Surveys that helped underline the kind of growth that led Newmar to seek partnership.
Since 2012, the company's share of the market has grown exponentially to the point where, in January 2020, the company held an 11.6 percent share of the Class A market, according to Statistical Surveys.
That includes an 8.2 percent share of gas-powered Class A's and, more tellingly, a 26.5 percent share of diesel motorhomes.
Sammut also detailed changes for 2021 models.
All Bay Star and Bay Star Sport motorhomes will be built on the Ford F Series Class A Motorhome Chassis.
Several lines, including Bay Star and Kountry Star will include wheelchair accessible floorplans.
The Dutch Star will have a new optional Air Chair to provide entry assistance.
"For those customers who have difficulty climbing in and getting out of motorhomes but don't really need the use of a large wheelchair lift, the Air Chair presents a safe and easy solution," Sammut said.
But receiving the most attention this year was Newmar's top-of-the-line Class A diesel pusher, the King Aire.
"It underwent a lifecycle change to create as much distance between it and other Newmar brands as possible," he said.
Changes include luxury appliance brands such as Viking and Miele. Samsung 8K TVs will be in the front living area with QLED Samsung TVs in other locations. The kitchens feature European-style cabinetry with flush-mounted flat-panel doors and quartz countertops. Williamsburg furniture with real leather highlights the living areas as well as 85-1/2-inch ceiling heights.
Newmar's website is soon to include sales support information for both 2020 and 2021 models. For more information, visit www.newmarcorp.com.