News
Newmar, Winnebago Tout Cultural Fit in Tie-Up
This article is from our older website archives. Some content may not be formatted or attributed properly. Please
Contact Us
if you feel it needs to be corrected. Thank you.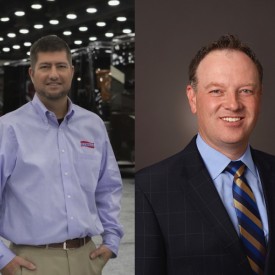 When a company has one of the most-respected names in an industry and has been around for five or more decades, it can probably be pretty selective about the folks with which chooses to keep company.
When Winnebago announced Monday that it was acquiring luxury motorhome manufacturer Newmar for $344 million in cash and stock, the wedding of two organizations that fit that description joined forces.
The deal was the second by Winnebago that added one of the major names associated with luxury and quality to its RV lineup in recent years. In 2016, Winnebago acquired fifth wheel and travel trailer manufacturer Grand Design for $500 million.
Winnebago Industries President and CEO Michael Happe told RV PRO that the acquisition made sense given Newmar's reputation for building a quality, luxury product.
"They have a strong following among their customers overall and have a brand that is associated with quality, innovation and customer service," he said. "They have built up a lot of momentum over the past several years and their leadership team has built a quality culture."
For his part, Newmar President Matt Miller said he believes the two companies will be a good fit.
"They have good values and a strong commitment to their employees and customers and are known for customer service and support," he said.
Miller said he approached Winnebago about the possibility of an acquisition earlier this year.
Happe said the case for the deal was strong from the beginning. He said some of the factors weighing in are that Newmar dominates the market for luxury motorhomes priced at $400,000 and higher and has a strong position among diesel motorhomes.
Winnebago's motorhome lineup does not compete in those higher price levels and, Happe said, while noting that two-thirds of Newmar's 57 dealers do not currently carry Winnebago products, so adding those dealers raises the possibility of increasing Winnebago's footprint.
Although the Grand Design acquisition was a different company with different lines of vehicles and a different culture, Happe said there are similarities between the two deals.
"Both of them have a passion for quality in their leadership team," he said. "Our approach has been to grow by acquiring healthy companies with a lot of momentum."
As part of the deal, Newmar's leadership team will remain in place. Miller will remain as president and will have a spot of Winnebago's leadership team, but his primary focus will be to continue his focus on Newmar. He will report directly to Happe.
"Our company has grown a lot over the past five years and it has been a lot of work to manage that," Miller said. "It is exciting to have a bigger parent company."
Winnebago motorized will maintain its production facilities in Iowa, and Newmar, which employs about 1,060, will remain as a standalone unit in Nappanee, Ind. Happe said the companies will be extremely careful with any integration, with any synergies initially coming from best practices and in areas that wouldn't be apparent to customers.
According to data provided by the companies, Winnebago has revenue of about $2 billion while Newmar's annual revenues total about $661 million. Newmar's compound annual growth rate in the Class A diesel market since 2013 has been 22 percent, according to Statistical Surveys.
Winnebago has a 4.1 percent enhanced motorhome profit margin, while Newmar's is 8.4 percent.