RV News
Nominations Close Soon for RV Aftermarket Lifetime Achievement Award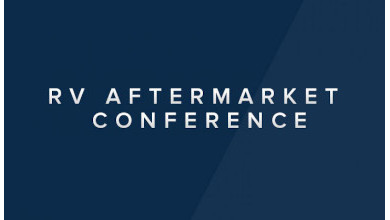 Nominations for the RV Aftermarket's Lifetime Achievement Award are being accepted through this Friday, June 17.
Given to one individual each year who has contributed specifically to the RV aftermarket throughout their career and/or lifetime, awardees have delivered exceptional product innovation, education and philanthropy to the industry, according to conference organizers. Candidates also embrace a spirit of service to the industry, making a difference to the ongoing excellence of the RV aftermarket, while also exhibiting strong moral and ethical behavior that exemplifies good stewardship and conduct.
Nominees for the RV Aftermarket Lifetime Achievement Award will be voted on by the previous 10 award winners, as well as the current Aftermarket Committee Chair and kept in the running for three years. Recent award winners include:
2007 Ellen Kietzmann
2008 Mike Keller
2010 Ron Dempster
2013 Jerry Shepherd
2014 Tom Manning
2015 John Spaulding
2017 Darryl Searer
2018 Bob Brammer
2019 George Grengs
2021 Jerry Edwards
To submit a nomination, click here.
The winner will be announced on Tuesday, Aug. 9, during the 2022 RV Aftermarket Conference held in San Antonio, Texas.
Registration for the conference, being held Aug. 8-11, is now open.
The conference's focus is to support a great parts and accessory purchasing experience that will benefit supply chain members and the RV consumer. During the event, aftermarket suppliers and distributors meet during one-on-one "appointment sessions" to pitch new products and review their current offerings. In addition to networking with colleagues with a proven track record in the industry, attendees will hear from thought leaders on the state of the RV industry, develop strategies for expanding the market segment and discuss opportunities for future growth.
To register for the conference, click here.