RV News
Northern Wholesale Show Concludes with Product of the Year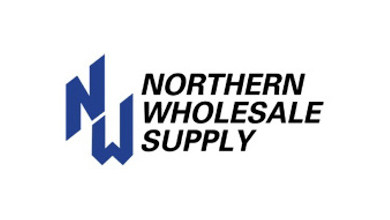 The Northern Wholesale show closed a day of solid sales on Thursday. Towards the end of the show Dean Kruchten, director of marketing, announced the winners of this year's awards.
Seventeen products were up for product of the year, which covered categories ranging from hitches and camping to technology and sanitation categories. More than 90 votes were cast in this year's voting by dealers.
The runner-up for product of the year was Blue Ox's new fifth wheel hitch. The Blue Ox BXR2100 with 21,000-pound towing capacity has a clean and simple design. Cameron Jacobs accepted the award on behalf of Blue Ox.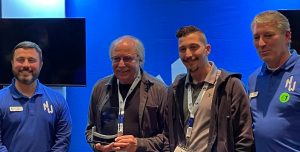 The winner of this year's product of the year went to Kuma's Kozy Bear Chair which has a cooler in the middle in between the two seats. An elated Harry Allen of Allen & Associates jumped out of his chair at the news and many industry friends stood by to shake his hand. Allen and his son, Jared, accepted the award on behalf of Kuma.
Allen attended the first Northern Wholesale show back in 1987 and recently celebrated 50 years in the industry.
The supplier of the year award went to AP Products out of Coldwater, Michigan. Scott Sharpley and T. Chad Johnson accepted the award for AP Products.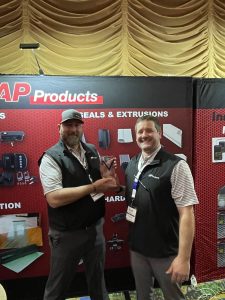 "It is with great pride that we accept this honor on behalf of the entire AP Products team, both on the road and internally here in Michigan," said Tom Manning, owner of AP Products and Manning & Associates. "The Northern Wholesale Show is a time-honored event that we feel plays a major role in bringing education on new products and market trends to dealers in the upper Midwest part of the country. From the early days of individual meetings in hotel rooms, to its current format today, the event offers suppliers unique access to dealers in that marketplace. They provide the right balance of education, sales and networking that have, not only enabled our company to succeed, but also to build personal relationships that have endured a lifetime. We thank Northern Wholesale, the dealers who attend and our entire team for helping make us successful."
The best field support award went to the person who had best helped dealers out in the field with their knowledge of the product. Jim Woodruff presented Brad Vander Pol, who is the sales territory manager at Demco products in Boyden, Iowa, with the 2023 award.