RV News
NTP-STAG's Nashville Expo Breaks Records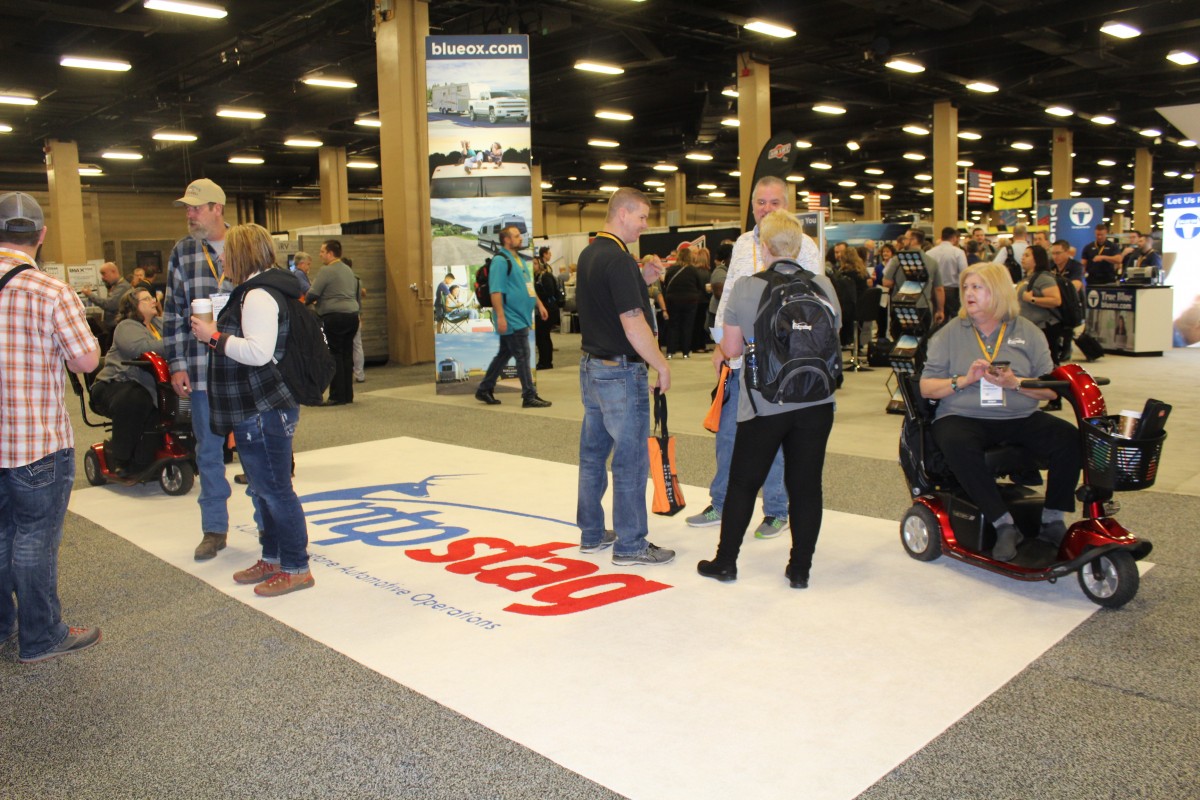 NTP-STAG recently reported that the 2019 Expo increased in attendance, exhibit hall size, sales, new product and program reveals.
"We had high expectations going into the event," said Bill Rogers, president of NTP-STAG. "The results were exactly what we hoped for – strong attendance, busy show floor, solid representation by leading suppliers in our market, and great sales."
The 2019 Expo, held at the Gaylord Opryland Resort in Nashville, had more than 3,000 preregistered NTP-STAG customers, supplier personnel and staff scheduled to attend. The two-day event had the largest RV University attendance ever and the 150,000-square-foot exhibit hall was humming with people and deals until the closing bell.
"Our training and education programs continue to be a strong draw for the Expo," said John Spaulding, director of communications and events. "It reinforces the fact that there is a desire for people to be better at their jobs and have a deeper understanding of the products, business practices and trends that impact their success. Having over 1,100 people signed up to participate in our education programs this year was incredible."
During Expo, there was definitely a focus on new items, product categories and marketing programs that can help dealers grow their businesses. The traditional model store was transformed into an idea center where attendees could see how a variety of categories like, pet supplies, portable lighting, kitchen items, smart technology products and PDI components can be merchandised to improve impulse shopping and overall store sales performance.
"Helping customers find new products and showing them how to sell them was a key initiative for us at the show this year," said Fred Petrivelli, vice president of sales. "Based on the level of interest we saw in the merchandising area and with the 17 new suppliers we had on the show floor, I would say we delivered on that one."
The company reported that its pre-cart order building process was a success this year with more than 64 percent of the registered dealer accounts having come prepared with some of their buying pre-planned. The pre-cart sales totals were up more than 50 percent from 2018.
"Obviously, coming to the show prepared gives people more time to spend with suppliers on the floor learning about new products and I think that really helped us achieve our overall sales plan at the event," said Ralph Ruzzi, vice president of NTP-STAG Canada.
"Based on what we experienced in Nashville this week, I'd have to say that things are off to a pretty good start," said Rogers. "The suppliers were very complimentary. Our customers were appreciative and upbeat, and they really showed a keen interest in a lot of the new things we introduced. From our Marketing Garage digital content solutions and Parts VIA to product and service offers from DISH, Pet Comfort, Blue Ox, Airxcel, Carefree, Valterra and others, I really couldn't be happier with what I saw this week. The best part was being able to build on so many great relationships that we have."